TOP GERMAN TECHNOLOGY. Success is achieved by enterprises that are able to tackle every task throughout the season using the lowest possible amount of resources and being effective with the time available. Equally, every penny counts when it comes to reducing production costs. DEUTZ-FAHR has developed the new 7 Series for such businesses. The two new 7 Series models deliver up to 246 HP and stand out for a range of trademark German characteristics: high quality, high precision and reliability combined with cutting-edge technology in terms of both cost-effectiveness and comfort. The 7 Series represents the culmination of highly innovative and intelligent tractor technology manufactured at our new facility in Lauingen, Germany, offering the exceptional comfort of the MaxiVision 2 cab, intuitive controls, a newly designed armrest, state-of-the-art precision farming systems, highly efficient engine and transmission technology, innovative axles and brakes which ensure optimal driving comfort and maximum safety. Furthermore, the hydraulic systems and lift capacity both front and rear, compliment the overall 7 Series specification making this tractor the ideal partner for increasing the productivity of professional contractors and agricultural businesses – both in the field and on the road.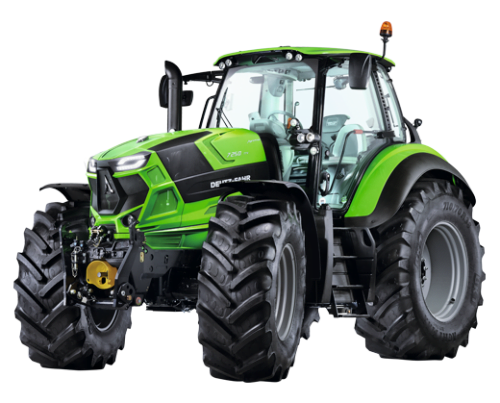 214-230 hp
8200-9100 kg
2868mm wheel base
Deutz® 6.1 Stage 4 (Tier4 Final)
electronically controlled continuously variable TTV transmission technology
Suspended 4wd front axle – locking front diff. (available dry disc brakes)
Closed center (LS) hydraulic system – up to 55 gpm total flow
Up to 6 rear remote valves and 2 front valves – electronically controlled
10,000kg rear hitch lift capacity – 5480 kg front hitch lift capacity
3-speed rear PTO with push button engagement (available front PTO)
MaxiVision 2 cab with spacious, comfort interior, climate control, air seat
Multifunction armrest with multi-controller joystick
iMonitor2 12″ touchscreen ISOBUS terminal – Agrosky auto guidance system
STAGE 4 SIX CYLINDER ENGINES: POWERED BY EFFICIENCY The new 7 Series is equipped with a completely redesigned engine in terms of environmental impact and cost-effectiveness. The new Deutz 6.1 Stage 4 (Tier4 Final) engine is more responsive, offers higher reserve torque and has a higher torque at lower rpms. At the same time, consumption of fuel and AdBlue has been reduced by 5 %, compared to the previous generation. The revised exhaust system features SCR after treatment and an additional, passive DPF (diesel particulate filter). DPF offers three advantages compared to the usual active filters: no fuel injection enters the filter, less heat is generated around the unit and the filter regenerates much more quickly. This saves fuel and money while conforming to all international emission standards. The efficiency of the engine is supported by Electronic Visco fan and the redesigned, compact and high-performance cooling system. The patented cooling system can be opened completely, which makes servicing much more straightforward. A pre-cleaning system on the air intake slots prevents dirt from entering the air filter, making a substantial difference to service costs. The Deutz 6.1 Stage 4 (Tier4 Final) engine – modern technology made in Germany – is synonymous with the highest levels of know-how and efficiency, allowing you to achieve maximum productivity.
Engine
Deutz 6.1 Stage 4 (Tier4 Final)

Rated / Max. Horsepower
230 / 246

Cylinder Displacement
6.1 liter, 6-cylinder

Common Rail Fuel Pressure
1600 bar

RPM at Rated / Max. Power
2100 / 1900

Max Torque
980 Nm @ 1600 RPM

Fuel Capacity
400 litres

DEF (AdBlue) Capacity
50 litres
| | |
| --- | --- |
| Do | |
| NOT DELETE | |
| THIS TABLE | |
| IT CREATES CSS THAT IS USED | |
| in the ACF Repeater | |
| JET Engine fields | |
| for the engine specs - Ken | |
| DEF (AdBlue) Capacity | |
ERGONOMIC OPERATION. MAXIMISING DRIVER'S COMFORT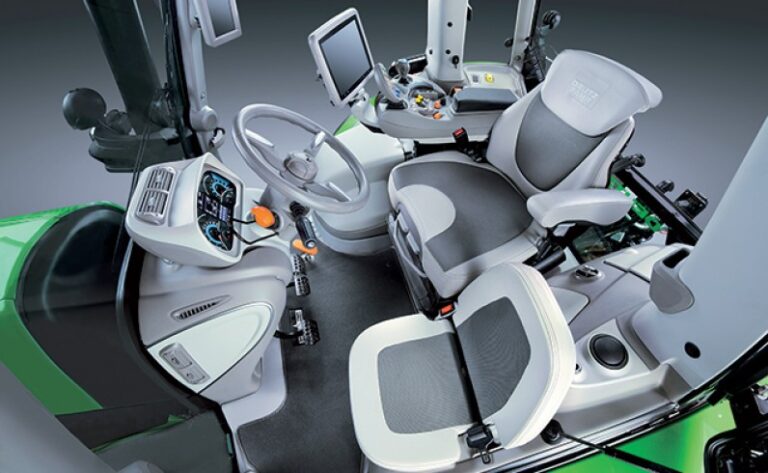 MaxiVision 2 cab with 12″ iMonitor2
Maximum Technology, Maximum Comfort, Maximum Productivity
Cab / Operations
Other features that reduce stress are the bright, welcoming colours of the interior, the large windows and a sunroof, available in three designs: an easy-to-open green roof, a glass roof with 84% UV radiation absorption and a FOPS safety version for optimal visibility during front loader operation. The air conditioning system – with automatic functions – provides the largest number of air outlet openings in this tractor class guaranteeing uniform air distribution like no other model. Every detail of the MaxiVision 2 cab has been designed to help the driver work for long periods without stress, thus achieving maximum productivity.
Armrest Controls
The newly designed armrest makes the 7 Series even more relaxing and more intuitive to operate. All routine functions can be automated. Simply pre-select the desired basic settings and activate them at any time with a tap on the screen. The new, highly ergonomic joystick on the armrest controls everything from driving speed, direction of travel and cruise control selection to the ComfortTip system, lift controls and front lift controls. It is an intuitive system that requires no change of hand position and no more than a moments thought to operate. All of the controls are clearly marked with colours and are logically arranged according to their frequency of use. The driver has complete control over the new 7 Series at all times and can work for very long periods at a highly productive rate.
Precision Farming
The new 7 Series is fi tted with the most advanced precision farming technology. The features of the central monitoring and control unit are unique, as are its dimensions: the iMonitor2 has a screen size of 12". Everything runs on a single, clear user interface, from tractor functions to ISOBUS applications, automatic control systems and data management. Two independent cameras can be fi tted as an option. The new 7 Series can also be TIM ready (Tractor Implement Management) and can react to control implements - technology to boost your precision and comfort at work. Another option is the VT4 system. A function that makes it possible to control attachments using the tractor's own functionality, thus avoiding too many implement controls/ monitors in the cab. The section control and variable rate control systems for sprayers and seeders are included as standard. Allowing the driver to activate or deactivate sections in order to avoid overlap and to conserve crop protection agents and seed. Thanks to an optional remote control system, product specialists from DEUTZ-FAHR can access vehicle systems remotely when providing support. Of course, there are also automatic control systems as well as solutions for wireless data transmission and data management.
TTV transmission. Turn power into productivity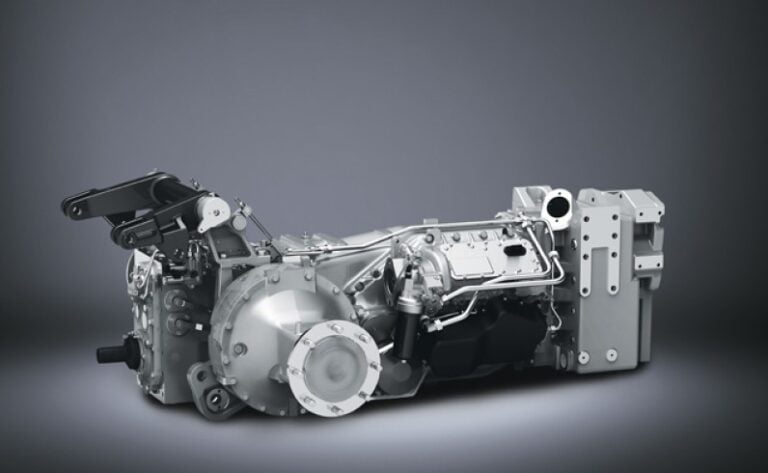 The only tractor with a compact designcapable of enhanced road speeds
40 Km/h or 50 Km/h
intuitive operation with high efficiency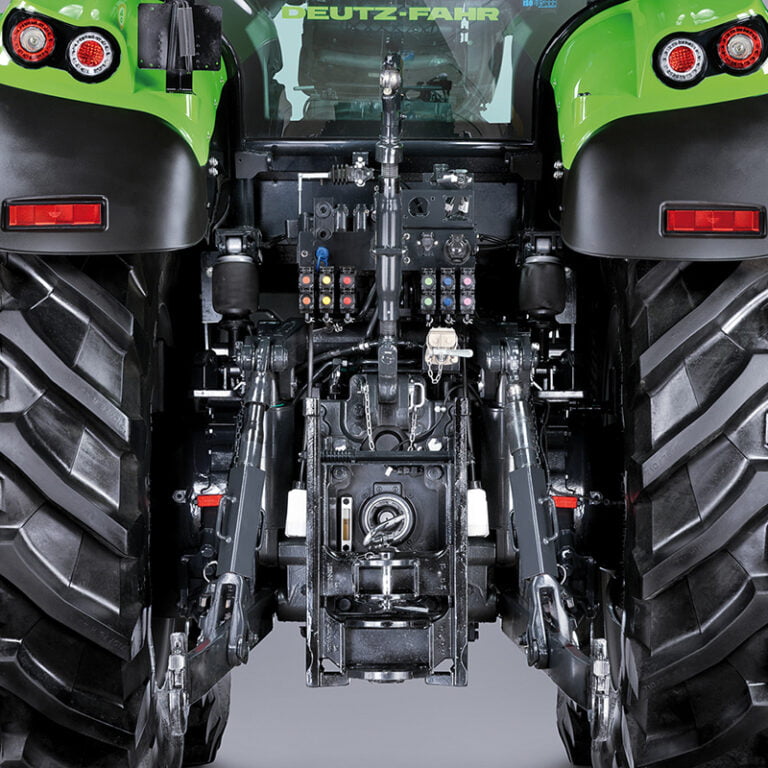 Rear Axle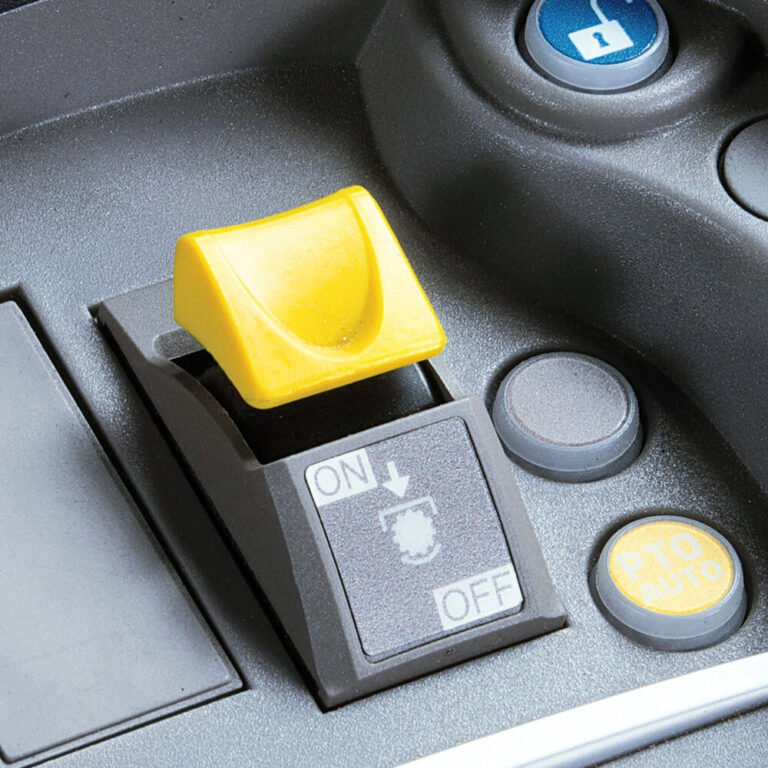 PTO
With three PTO speeds (540ECO/1000/1000ECO) at the rear and 1000 or 1000ECO at the front, all PTO operations are covered with maximum efficiency. ECO speeds are achieved with reduced engine speed, and in turn, reduced fuel consumption. All hydraulic and PTO functions are easily controlled from the armrest in the cab.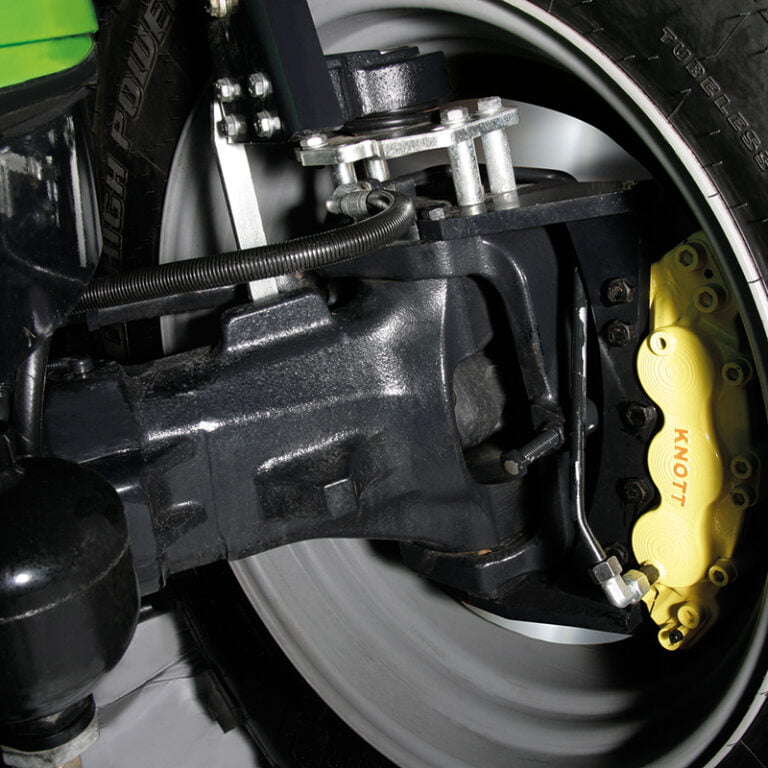 Front Axle
The new heavy duty front axle suspension and braking system of the 7 Series are unique in this tractor class. The intelligent and adaptive suspension system give the new 7 Series maximum stability in both heavy towing operations and challenging draft work. The innovative Anti Dive system stabilises the tractor during all transport operations and boosts driving safety. The new suspension design also ensures better handling on uneven ground, with the suspension dampers mounted on the front side of the axle. The 7 Series is the only standard tractor that is fitted with high performance dry disc brakes on the front axle. The additional Booster brake system ensures maximum braking performance with the lightest pedal pressure. No other standard tractor offers a heavy duty front axle, with dry disc brakes combined with a booster brake system
Powerful, versatile, precise. 10,000kg Lifting Capacity – 120 litres per minute Pump Capacity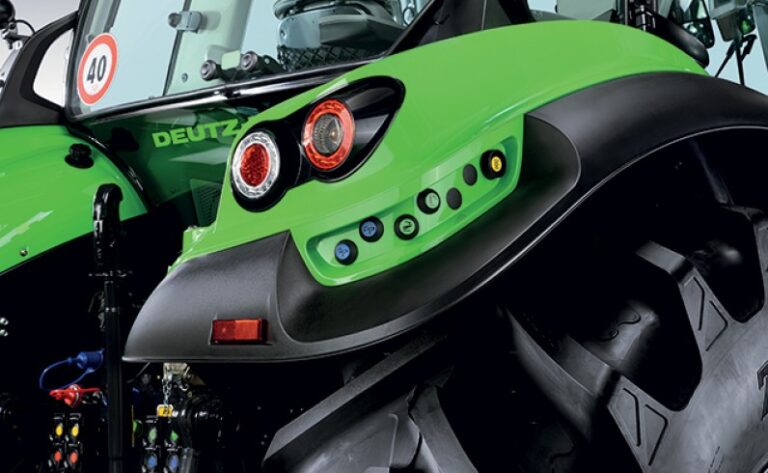 The new 7 Series provides ample auxiliary hydraulic outlets for all applications, with up to five rear spool valves and two front valve options – all proportionally controlled. The standard LS hydraulic system delivers an output of 120 L/min as standard or 160 L/min as an option. A separate pump supplies the steering system so the main working hydraulics are not compromised. The main rear lifting capacity is a generous 10000 kg as standard. All hydraulic and PTO functions are easily controlled from the armrest in the cab.
Learn More About the 7 Series​