UX Special trailed sprayer
The UX Special, in tank capacities of 3,200 and 4,200 l, is characterised particularly by its robust and operator-friendly design. The Super-S2 or Super-L2 booms offer boom widths of 15 to 30 m. Thanks to the level of the comprehensive, high quality equipment offered, the UX Special fulfils the high demands placed on modern crop protection.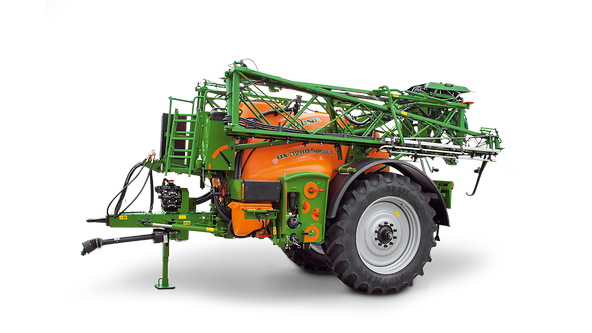 Low transport height and overall compact transport dimensions through an innovative tank and boom design
Light, compact, manoeuvrable – compact design and drawbar steering or axle steering with a steering angle up to 20°
SmartCenter: tailored operating solutions – from the easy-to-handle Standard-Pack up to the remotely-controlled system with Comfort-Pack
High capacity induction bowl for maximum fill times and homogenous spray liquid mixing
High-capacity, self-priming, low maintenance piston diaphragm pump for large application rates even at high spray pressures
Fully automatic DistanceControl boom guidance
DUS or DUS pro pressure recirculation systems ensure continuous circulation of the spray agent
50 cm part-width sections and optimum nozzle choice thanks to the electric AmaSwitch or AmaSelect individual nozzle controls
Automatic wash-out programmes for top cleaning results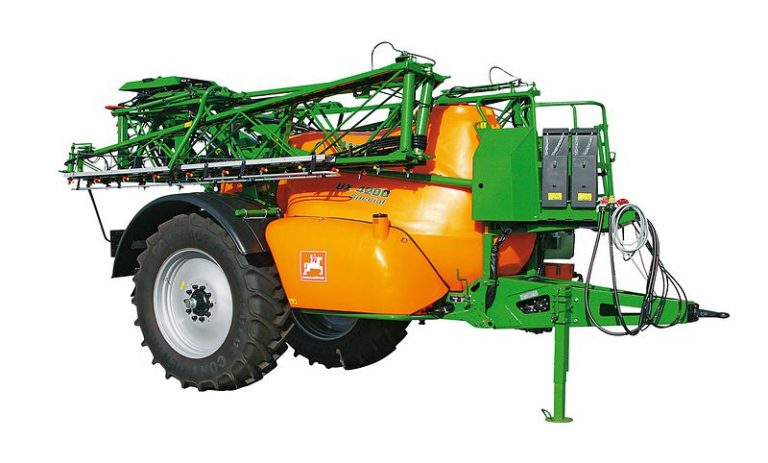 Tank on the UX 4201 Super, UX 5201 Super and UX 6201 Super
The compact spray agent tank, which is made from polyethy-lene, is especially secure, light and long lasting. The absolutely smooth inner and outer walls with rounded corners and no crannies allow quick and easy cleaning. Residual spray volumes are kept at a minimum due to the specific shape of the tank sump. The UX Super trailed sprayers are equipped with a 580 litre fresh water tank.

Low centre of gravity
The design of the UX tanks along with the compact AMAZONE booms ensure a low centre of gravity and very compact transport dimensions. In addition, the booms, even when folded, are optimally protected in transport via the sprung parallelogram boom frame.

Stepless hydraulic main agitator
The intensity of the hydraulic agitator can, steplessly, be reduced down to nothing in order to avoid any foaming of the crop protection agent or to facilitate spraying out the remaining tank contents.

SmartCenter – Centralised operator station of the UX Special
All UX Special sprayers feature a centralised and ergonomically designed operator station, the SmartCenter. All operator controls are located in the front left hand corner, directly by the driver's cab door, and are logically and unmistakably marked. In addition for when filling, all UX Special sprayers feature manual external fill level indicators for the spray agent and fresh water tanks.

Operationally safe suction and pressure filters
Both the suction and pressure filters are especially practical and operationally safe. The 32 mesh/cm² suction filter can be opened and cleaned even when the machine is full, without any loss of spray agent. The pressure filter on all UX sprayers is fitted, as standard, with either a 50 mesh/cm² or, as an option, 80 or 100 mesh/cm² inserts and is self-cleaning.

Linking to the tractor – Just as you like it!
No matter whether using a rigid hitch drawbar with ball coupling or the classic towing eye, AMAZONE always offers the right solution for your tractor. Make a choice between top or lower mounting, between 40 mm or 50 mm diameter towing eyes, or the K 80 ball coupling.

AutoTrail drawbar steering
For the UX Special, in working widths up to 28 m, there is the option of AutoTrail drawbar steering when working on level ground. Alternatively, for the steering drawbar, there is hydraulic drawbar control that is usable, for instance, when turning in row crops.

AutoTrail axle steering
The optional AutoTrail axle steering provides the driver with the utmost comfort and ensures an especially smooth boom ride and high stability. The track-following capability, particularly when in the reversing position, is outstanding. This steering of the axle is also possible in the folded-in position.

AMAZONE booms – Smooth and precise as standard
Thanks to the central pendulum suspension, the AMAZONE Super-S2 and the Super L-2 booms are optimally guided above the target. In addition, the combined spring and damping elements provide an enormous reduction in any potential vertical movement. Also the horizontal pivoting movements are kept at a minimum by the integrated damping system so that, for all AMAZONE booms, optimum work results are achieved. AMAZONE booms feature as standard: • an elongated, central pendulum for optimum parallel guidance, • combined spring and damping elements for shock-dampening the suspension against vertical forces, • an integrated dampening system with brake plates and buffer blocks to damp the horizontal pivoting movements. Super-L2 booms additionally feature • Spring slide plates to damp the movement in the direction of travel (only on 4-section booms) 1) AMAZONE booms ensure that smooth, vertical boom ride 2) AMAZONE booms achieve a smooth horizontal boom ride

Precise switching in 50 cm part-width sections
The decisive benefit of the individual nozzle control is the possibility to operate with small part-width sections giving an even greater degree of precision in wedge shaped fields, short work and on the headland. If AmaSwitch or AmaSelect is combined with the automatic GPS-Switch Section Control, the automatic switching of individual nozzles in 50 cm part-width sections is made possible. With this system, areas of overlap are significantly reduced and are, in comparison with a conventional Section Control part-width section shut-off system, up to 85 % less. So, the combination of GPS-Switch and individual nozzle control results, depending on field shape and size, working width and number of part-width sections, in significant savings of spray agent compared with a normal spraying system used thus far.
| | |
| --- | --- |
| Do | |
| NOT DELETE | |
| THIS TABLE | |
| IT CREATES CSS THAT IS USED | |
| in the ACF Repeater | |
| JET Engine fields | |
| for the engine specs - Ken | |
| DEF (AdBlue) Capacity | |