Arable farms, dairy farms, livestock farms, mixed farms, large farms and small farms, run as a main business or part-time – the range of applications for utility tractors is more diverse than ever before in modern agriculture. Additionally, there is forestry work and municipal tasks. Only when a tractor meets every aspect of the working profile and suits the financial restraints of a farm can it be commercially successful. DEUTZ-FAHR has developed the new 5G Series with this in mind. You will find a utility tractor that perfectly suits your needs among the seven models with an output of 75 hp to 116 hp splitted in three families with different wheelbases, different load capacities and weights and different tire combinations. The specification and technology of the new 5G Series will also meet your needs. The cab guarantees ultimate working and operating comfort for all applications, while the new FARMotion Stage 4 (Tier4 Final) engines deliver maximum power with minimal emissions. A 40 km/h ECO transmission ensures the right speeds for precise, efficient work. You can choose between a mechanical reverse or a electro-hydraulic reverse Powershuttle. Impressive hydraulic power and lift capacity at the front and rear make the new 5G Series suitable for your application profile. Whatever your requirements, DEUTZ-FAHR can meet them with the largest range of utility tractor models.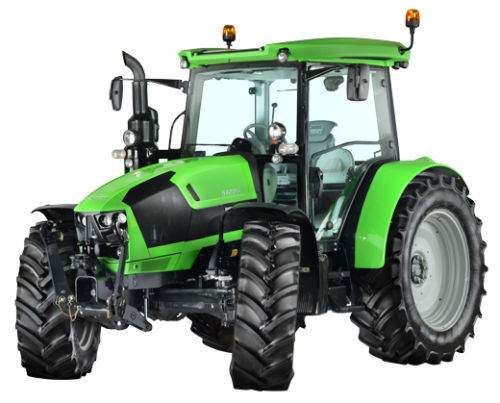 75-116hp
3600-4320kg
2295-2400mm Wheelbase
FARMotion Stage 4 (Tier4 Final)
4-5 speed transmission, mechanical or electro-hydraulic reverse shuttle and up to four gear ranges. 8-60 forward & reverse gears
55 l/min, 60 l/min ECO and 90 l/min hydraulics with up to 4 control valves
3600-5410kg rear lift capacity
2100kg front lift capacity
540/540 ECO and 1000/1000 ECO rear PTO. 1000 rpm front
FARMOTION STAGE 4 (TIER4 FINAL) ENGINES. UNCOMPROMISINGLY EFFICIENT. Under the bonnet of the new 5G Series, there are state-of-the-art, compact, three- and four-cylinder FARMotion Stage 4 (Tier4 Final) engines with an output of 75–116 hp. These have been specifically designed and developed for agricultural use in order to meet the toughest requirements. Thanks to the electronic common-rail injection system with a pressure of 2,000 bar, air-cooled turbocharger and selective catalyst reduction (SCR) system, the engines now deliver 5% more power and torque on average than their predecessors (for the 5080G model, 75 hp only with diesel oxidation catalyst (DOC) catalytic converter and no SCR system). Both fuel consumption and emissions are extremely low. Engine efficiency is supported by the PowerCore air filter and the new cooling system with optional viscous fan. The cooling system can be accessed almost instantly. This makes cleaning and maintenance work much easier.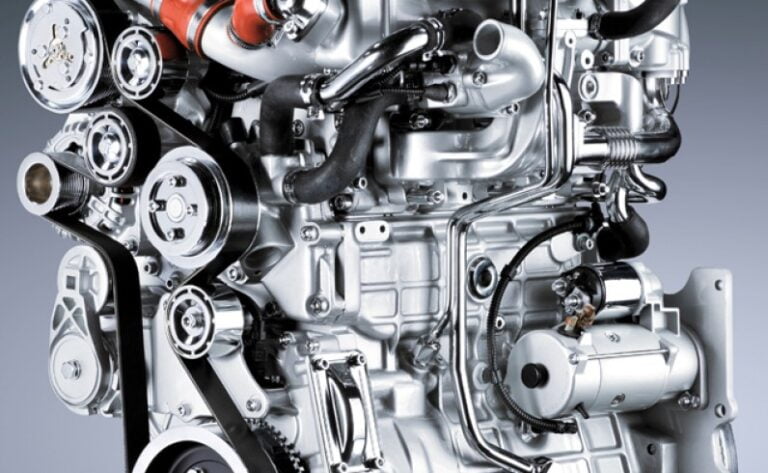 Engine
SDF FARMotion Stage 4 (Tier4 Final)

Rated / Max. Horsepower
75-110hp

Cylinder Displacement
2.8l/3 cylinder or 3.8 liter/4 cylinder

Common Rail Fuel Pressure
2000 bar

RPM at Rated / Max. Power
2200/2000

Max Torque
1500-1600rpm

Fuel Capacity
130-145l

DEF (AdBlue) Capacity
8-10l
| | |
| --- | --- |
| Do | |
| NOT DELETE | |
| THIS TABLE | |
| IT CREATES CSS THAT IS USED | |
| in the ACF Repeater | |
| JET Engine fields | |
| for the engine specs - Ken | |
| DEF (AdBlue) Capacity | |
CUTTING EDGE TECHNOLOGY WITH NO COMPROMISES.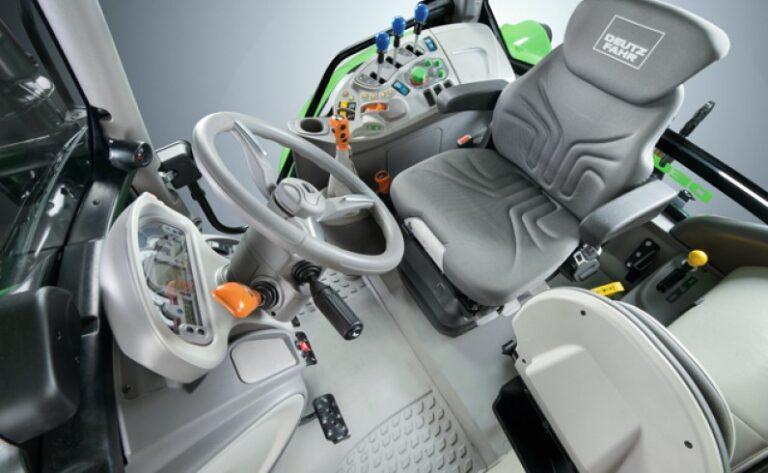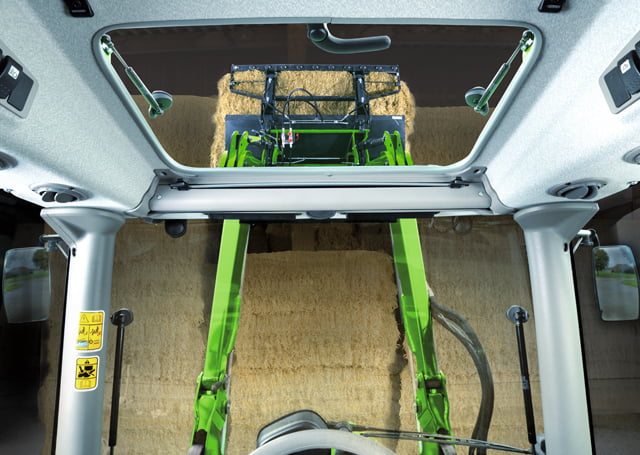 CUTTING EDGE TECHNOLOGY WITH NO COMPROMISES.
Anyone who sits inside the new 5G Series will immediately notice that the new cab is the embodiment of peace and precision. The design is similar to that of a comfortable car. Smooth curves, a bright, friendly atmosphere, controls within easy reach and clear visibility on all sides promote fast and efficient work. The difference to a car is that when you start the engine, you feel pure power and nothing else. Noise and vibrations remain outside. The cab is mounted on the latest design of "Hydro Silent-Block" suspension that absorbs up to 40% more jolts and vibrations than the previous versions. At night or when the visibility is poor due to adverse conditions, up to ten work lights (six in the roof, two on the side posts and two in the bonnet) guarantee perfect illumination of the entire working area. Three different roof designs are available: A standard roof with FOPS safety features, a glass roof without FOPS and an open-view polycarbonate roof with FOPS safety features for optimal visibility upwards during front loader operations. Whatever tractor tasks need to be carried out, the modern, stylish cab motivates drivers to enjoy their daily workplace.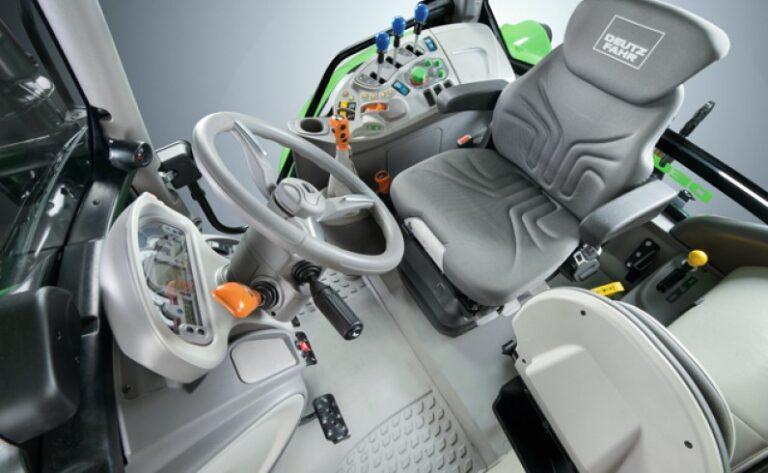 GIVING YOU CONFIDENCE AND CONTROL OVER EVERY JOB WITHOUT COMPROMISES.
For the new 5G Series, working comfort means that the tractor adapts to the driver and not vice versa. The cab has been revised with the aim of making the operation fast, straightforward and intuitive for all types of work. As is customary with DEUTZ-FAHR, all controls are clearly colour-coded and logically arranged according to their frequency of use. The illuminated InfoCentre in the steering column provides the driver with all the required information about the tractor's operating status – logical and clearly presented. The auxiliary valve controls are operated on the right-hand console. These can be used in a wide range of operating modes and locking functions, which can be selected precisely, conveniently and reliably. Furthermore, it is now possible to store two engine speeds. During routine work, the most efficient range for working or driving can be activated at the push of a button.
EFFICIENT TRANSMISSION. GET INTO GEAR WITHOUT COMPROMISE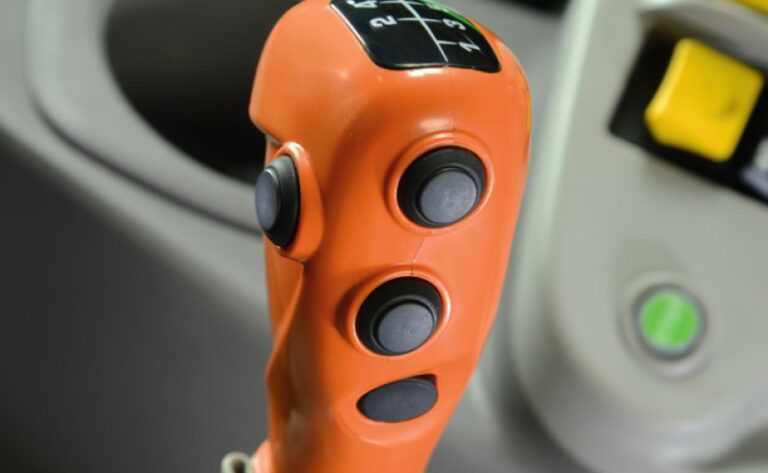 When it comes to the transmission, the new 5G Series shows just how adaptable a utility tractor can be. You can choose between four or five speeds, mechanical or electro-hydraulic reverse shuttle and up to four gear ranges (slow, fast, creep and super creep) with two or three Powershift speeds and a minimum of eight up to maximum of sixty forward and reverse gears. Naturally, for all models with five speed variants,the highest efficiency is reached at 40km/h Eco with reduced engine speed. Thanks to Powershift design, engine speed can be increased or decreased under load simply by pressing a button on the gear shift lever without activating the clutch. The Powershuttle (optional) is equipped with two long-life wet multi-plate clutches. This makes it possible to change direction at speeds up to 13 km/h even under load. Another system linked to Powershuttle is the convenient Stop&Go function for stopping and moving off without using the clutch.
4 Speed gearbox with optional 5 speed
Mechanical Reverse Shuttle standard, Electro-Hydraulic Reverse Shuttle optional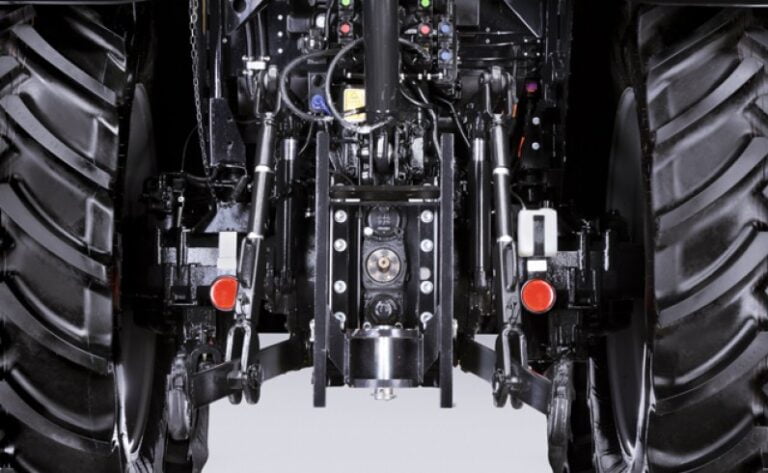 ATTACHMENT POINTS. STRONG AND VERSATILE - WITHOUT COMPROMISE.
The attachment points also demonstrate how well a utility tractor would suit your farm. With the new 5G Series, you can have almost any conceivable implement combination under precise control.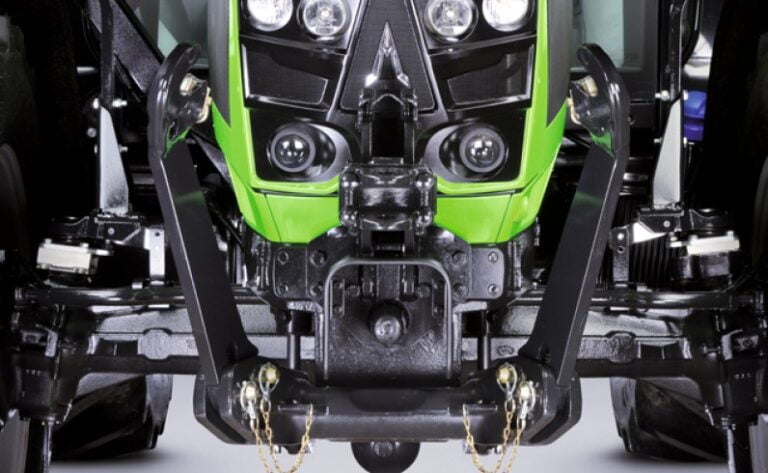 STRONG AND VERSATILE – WITHOUT COMPROMISE.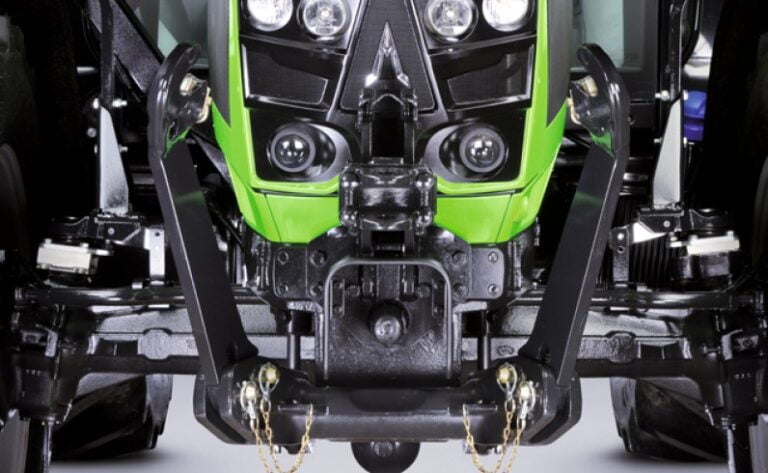 3 different hydraulic variants are available – 55 l/min, 60 l/min ECO and 90 l/min. Double open centre hydraulic pumps with a capacity of up to 60 l/min or 90 l/min and new high-flow hydraulic valves deliver impressive performance – but only when it is needed, of course. Up to four control valves can be used – three mechanical and one electric. Here there is a flow rate of up to 80 l/min as well as a wide range of operating modes, such as float position, continuous flow and kick-out functions. The rear lift and auxiliary control valves can be operated independently of each other.
Learn More About the 5 G Series