THE BEST TECHNOLOGY MIX IS NOW COMPACT FROM 126 TO 143 HP.
The new 6 Series provides the best technology mix in its class. DEUTZ-FAHR has expanded the series with six compact, four-cylinder tractors in the low to mid horsepower category: the 6120, 6130 and 6140, are available with TTV or PowerShift transmissions. From ploughing, sowing and cultivating to transporting, harvesting crops and front loader work – the new 6 Series tractors are as versatile as your daily work is varied. Maximum manoeuvrability, supreme efficiency and unparalleled operating comfort are trademark features of the new 6 Series. The modern bonnet design, LED light package and 8″ iMonitor in the cab all blend in seamlessly with the complete model range. Like the existing 6 Series, the new, compact four-cylinder tractors come with powerful hydraulic systems as well as a range of hydraulic attachment points at the front and rear. Ultra-efficient FARMotion engines (Stage IV) with an output from 126 to 143 HP (92.7 to 105 kW) ensure characteristicically high performance and low fuel consumption. A variety of equipment options are available. The spacious cab provides the high level of operating and driving comfort that DEUTZ-FAHR has become known. With the six new models in the range, DEUTZ-FAHR has added even more options to the technology mix. Enterprises looking for a compact model that offers a wide range of features as well as comfort and convenience are guaranteed to find a perfectly suitable all-round tractor that matches their work profile and individual requirements.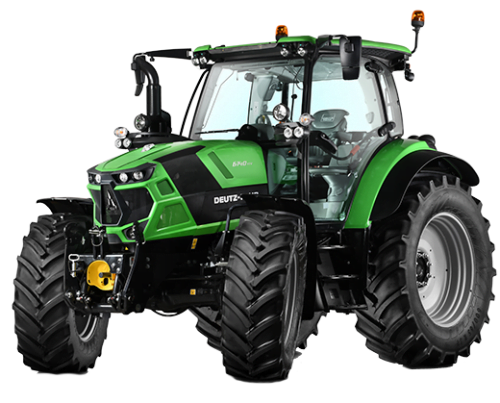 110-129 hp
5300-5700kg
2540-2550 mm wheel base
FARMotion Tier 4 Final
POWERSHIFT or TTV Transmission
90 l/m open centre or 120 l/m load sensing hydraulics
Up to five hydraulic valves in the rear and two in the front
5000-7000 kg rear hitch lift capacity - 2800kg front hitch lift capacity
Four PTO speeds 540/540ECO/1000/1000ECO at the rear; 1,000 rpm front PTO and a ground-speed PTO are available on request
simple mechanical manual controls to the most advanced electronic joystick
8" Imonitor
STAGE IV 4-CYLINDER ENGINES: EXTRAORDINARILY EFFICIENCY AND FUEL ECONOMY.
Compliant with Stage IV emissions regulations, these electronically controlled four-cylinder engines are compact, potent and extremely environmentally friendly. Common Rail injection ensures superlative flexibility and an immediate response to varying load, with generous torque available over a broad range of engine speeds. Contributing further to the efficiency of these engines is an electronically controlled viscostatic fan. Each model can also be equipped with the new HEB hydraulic engine brake system, which improves braking performance by up to 40%. This system ensures that the service brakes are protected, in particular when travelling downhill and carrying heavy loads. While increasing safety this reduces servicing costs. Embodying state of the art technology, the new engines powering 6120-6140 Series tractors are an expression of class-beating know-how and efficiency, and are designed and built to tackle any task with unbeatable productivity.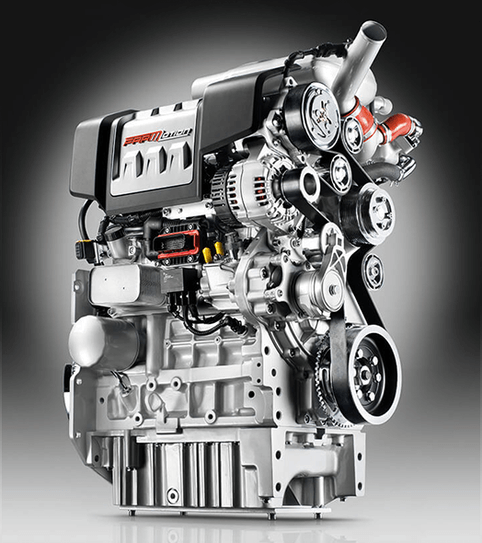 Engine
FARMotion

Rated / Max. Horsepower
110-129 hp

Cylinder Displacement
3.8 l

Common Rail Fuel Pressure
29,000 PSI

RPM at Rated / Max. Power
2000/2200

Max Torque
462Nm

Fuel Capacity
185l

DEF (AdBlue) Capacity
12l
| | |
| --- | --- |
| Do | |
| NOT DELETE | |
| THIS TABLE | |
| IT CREATES CSS THAT IS USED | |
| in the ACF Repeater | |
| JET Engine fields | |
| for the engine specs - Ken | |
| DEF (AdBlue) Capacity | |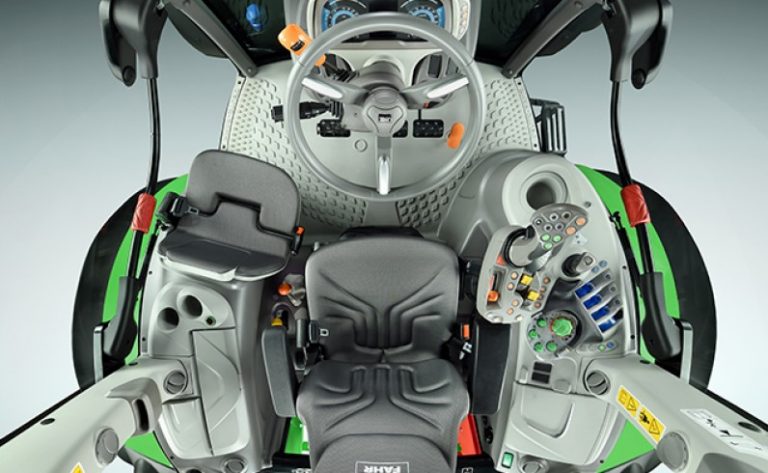 COMFORT CAB. HELPING DRIVERS TO GIVE THEIR ALL.
What do drivers need to give their all at work each day? First of all: peace and quiet. This is something the new 6 Series models offer. The cabin, mounted on Hydro silent blocks, reduces noise and vibrations by up to 40 %. For even more relaxed work, mechanical or pneumatic cab suspension can be fitted on request. Next, drivers need a pleasant working environment. No problem: you can choose between manually adjustable air conditioning or automatic climate control. Adjustable side windows are standard on all models, and an opening front windscreen is available on request. Then, of course, drivers need a perfect view of all working areas, whatever the conditions. This is a given, too. An optional 33,600-lumen LED lighting package turns night into day. For best visibility above the tractor during front loader operation, choose a model with a transparent sunroof – with FOPS. To improve rear visibility in wet conditions, the wiper position on the rear windscreen has been optimised. As you can see, DEUTZ-FAHR has given its utmost when it comes to comfort in the new 6 Series models so that drivers can also give their all.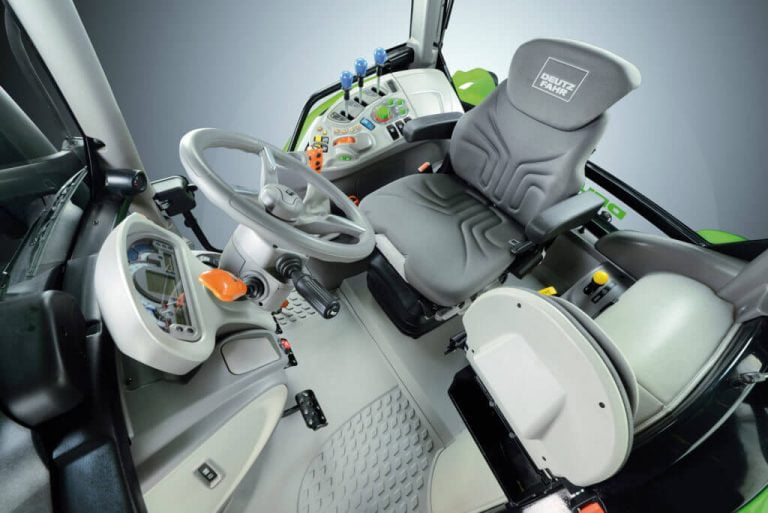 A COMFORTABLE SPACE. EVERYTHING IN VIEW. EVERYTHING TO HAND.
Climb aboard and enjoy the space while at work. The interior of new 6 Series tractors boasts an impressive, brilliant design. All of the controls for the engine, transmission, power take-off, automatic PTO, hydraulic control valves and the light as well as the MMI for the InfoCentrePro are within easy reach, built into the side console to the right of the driver. These are arranged logically depending on their frequency of use and clearly marked in different colours. The TTV models are operated using the new MaxCom joystick on the right armrest. The new InfoCentrePro in the steering column features a 5" colour display. This provides the driver with a continuous flow of information about the operational status of the tractor. Mini-MMI or MMI can be used to call up various pages and make individual settings. Three seat designs are available: one with mechanical suspension, one with pneumatic suspension and a rotatable seat with pneumatic suspension. All models also have a passenger seat with safety belt. What is certain in any case is that every wish is catered for with the new 6 Series in terms of driving and operating comfort.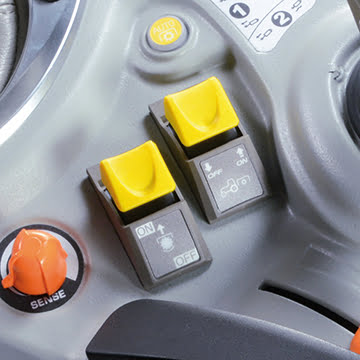 UP TO FOUR PTO SPEEDS AS STANDARD.
Four PTO speeds at the rear (540, 540ECO, 1000 and 1000ECO) are part of the standard equipment for the Powershift version, three for the TTV version. The automatic PTO function is included as standard. This activates or deactivates the PTO depending on the power lift position. The new 6 Series models offer everything for everyone. You can decide on the right equipment for you.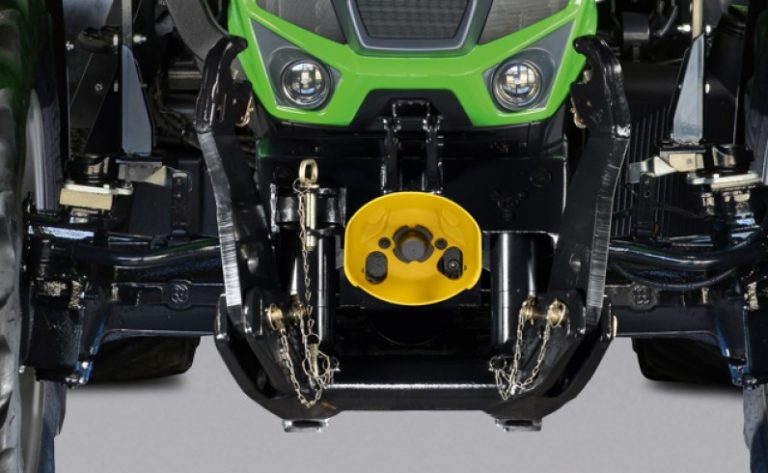 Front PTO
A 1,000 rpm front PTO and a ground-speed PTO are available on request.
TTV OR POWERSHIFT TRANSMISSION. THE CHOICE IS YOURS.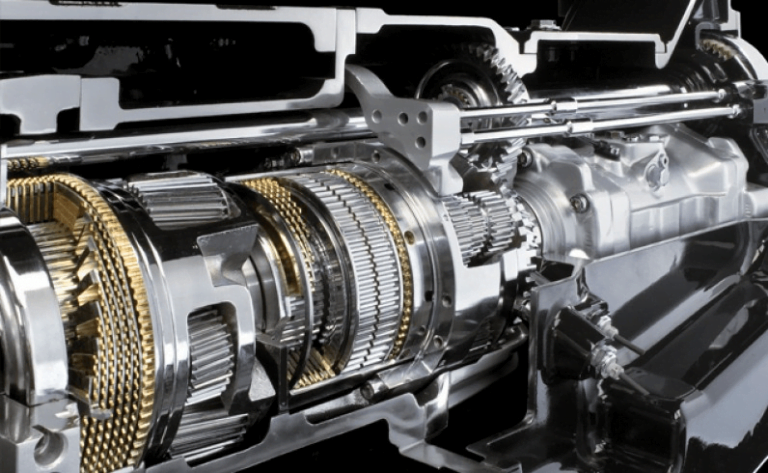 TTV TRANSMISSION
Maximum productivity with maximum driving and working comfort – the new 6 Series tractors can be fitted with modern, continuously variable TTV transmission technology. This mature concept has been tried and tested over the years and is now even more efficient thanks to new software. Three driving modes are available to allow the driver to adapt to every situation at work: manual, automatic and PTO. The overall speed range extends from 0.2 km/h to 50 km/h. For work in the field, TTV transmission is extremely efficient at all speeds. The engine and transmission controls are perfectly coordinated and support user-defined settings. The active-power-zero standby control makes it possible to stop without activating the brake pedal or clutch. Every single detail of the TTV transmission has been specially designed to maximise the productivity of the new 6 Series models.
POWERSHIFT TRANSMISSION. YOU HAVE COMPLETE CONTROL.
Pure technology. Those who choose the new 6 Series PowerShift models will benefit from a solid, five-speed manual gearbox with three powershift steps and speed matching among other comfort bonuses. Two versions are available: a 30+30 or a 60+60 speed version with creeper and supercreeper. These transmission systems also feature the electro-hydraulic power shuttle system with five-stage pre-selectable response characteristics (SenseClutch). This makes it possible to change the direction of travel without interrupting torque. The Stop&Go system facilitates precise manoeuvring in tight spaces without the need to operate the clutch – a key advantage of the new 6 Series models in terms of convenience, especially for front loader work. The ComfortClutch system also makes it possible to change gears without using the clutch pedal. Naturally, the top speed is 50 km/h, 40 km/h can also be achieved with reduced engine speed. For farmers who appreciate robust gear-shifting technology and still want to do some things manually, the new 6 Series PowerShift models are the perfect choice.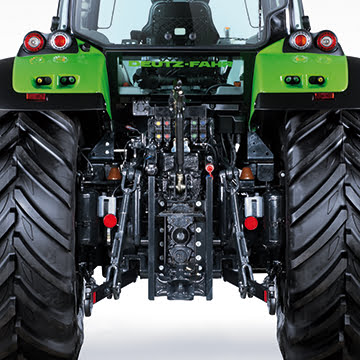 AUTOMATIC OR MANUAL? IT'S ALL A QUESTION OF ADJUSTMENT.
The new 6 Series tractors show the extent of their equipment versatility when it comes to the hydraulic systems. These can be configured to suit your exact needs. There is a choice of three hydraulic packages: a simple open centre system with a pump outputof 90 l/min and mechanically controlled valves, a 120 l/min load sensing package with mechanically controlled valves or a 120 l/min load sensing package with electronically controlled valves. Within these three basic packages, no fewer than 22 equipment options are available – from three simple, mechanical control units to complete electro-hydraulic control of five double-acting control units, front linkage (with ComfortPack) and front loader. A factory-fitted front linkage is available as an option. This also exists in three versions: mechanically or electro-hydraulically controlled with optional ComfortPack. The maximum lifting capacity of the front linkage is 2,880 kg. The electro-hydraulically controlled rear hitch can lift up to 7,000 kg.
Learn More About the 6 Series (6120-6140)