NEW! 6 Series Powershift / RCShift
TOTAL EFFICIENCY. The agricultural industry is highly diverse. Each individual enterprise has its own totally exclusive success strategy. But they all have one thing in common: they need to have the right equipment for their tasks. DEUTZ-FAHR has developed the new 6 Series PS/RCshift: 8 models ranging from 161 to 230 HP, 4 and 6 cylinder models, three wheelbases, two transmission variants and three cabin types enable our customers to create their own tractor – individually configured for each budget. With the new 6 Series PS/RCshift, DEUTZ-FAHR has redefined the configurability concept.
161-230 hp
7080-8550 kg
2542-2848mm wheel base
Deutz® 6.1 Stage 5 engine
POWERSHIFT or RCSHIFT Transmission
Load sensing system or an open centre constant flow pump, up to 160 L/min
Up to five hydraulic valves in the rear and two in the front
up to 9700kg rear hitch lift capacity – up to 5450kg front hitch lift capacity
Four PTO speeds 540/540 ECO/1000/1000 ECO at the rear and front 1000/1000 ECO/ DualSpeed PTO 1000 and 1000 eco interchangeable in cabin
MaxiVision, MaxiVision+ or MaxiVisionPro cabs
optional iMonitor2 (8" or 12") and Agrosky auto guidance system
TOP PERFORMANCE AND MINIMAL MAINTENANCE. The new 6 Series PS/RCshift is powered by updated DEUTZ 6.1 and 4.1 Stage V engines. The revamped Deutz TCD Stage V engines guarantee increased performance even at lower rpm, with tangible improvements in both torque curve and elasticity, for even smoother and more effective operation. In addition, with almost all the maximum torque available at just 1000 rpm, these tractors can tackle most tasks at low engine speeds, thereby ensuring significant fuel savings. Furthermore, completely new fuel tanks have been developed for all models. Combined with low fuel consumption and a capacity of up to 410 liters (on 6210 and 6230), extremely long operating times are possible. The use of cutting-edge manufacturing techniques has enabled the production of engines characterised by extremely precise manufacturing tolerances. As a result, the engine oil change interval for the new Series 6 tractors has been extended to 1000 operating hours (or 2 years). The DEUTZ engines – modern technology Made in Germany – is synonymous with the highest levels of reliability and efficiency, allowing you to achieve the maximum from your work.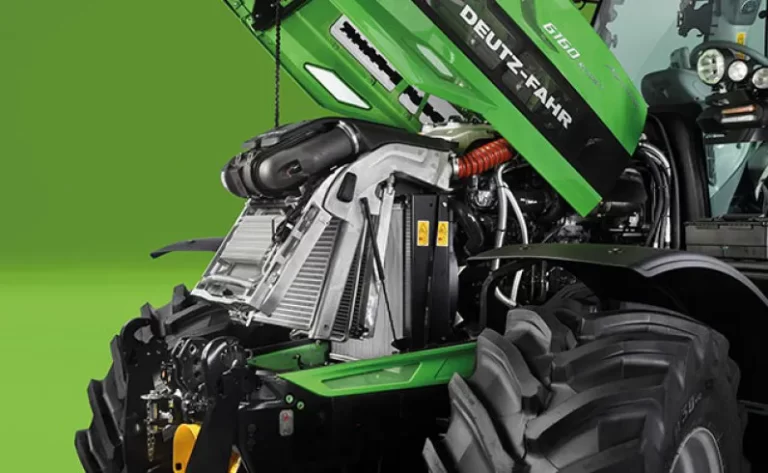 Engine
Deutz TCD 4.1 or 6.1 Stage 5

Rated / Max. Horsepower
114-204/ 118-230

Cylinder Displacement
4 liter, 4-cylinder or 6 liter, 6-cylinder

Common Rail Fuel Pressure
1600 bar

RPM at Rated / Max. Power
2100 / 1900

Max Torque
675Nm to 891Nm at 1500 RPM

Fuel Capacity
300-410l

DEF (AdBlue) Capacity
21-29l
| | |
| --- | --- |
| Do | |
| NOT DELETE | |
| THIS TABLE | |
| IT CREATES CSS THAT IS USED | |
| in the ACF Repeater | |
| JET Engine fields | |
| for the engine specs - Ken | |
| DEF (AdBlue) Capacity | |
ULTIMATE CONFIGURABILITY.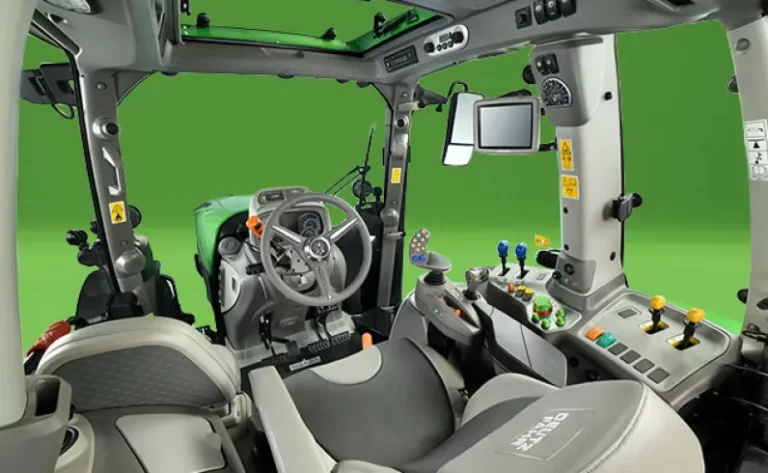 The revamped MaxiVision, MaxiVision+ and MaxiVisionPro cabs are the gold standard in their class and represent the next generation of a masterpiece of design, ergonomics and comfort. Now available with new XLarge Vision mirrors, openable front windscreen, a removable cooling box, 4.1 premium sound system system and various tablet and smartphone holders to make the workday more relaxing than ever. The InfoCentrePro in standard on the dashboard features a 5″ colour display, providing the driver with all relevant data about the tractor's operating conditions. It offers maximum convenience in terms of settings and information. The interior provides a peaceful working environment with engine noise, vibrations and heat reduced to a minimum as there is no connection between the cab and engine. In order to allow precise, stress-free work in all lighting conditions, the tractors can be fitted with an optional full LED package. The updated air conditioning system – with new additional air outlets and an optimized air flow – maintains the preselected temperature whether its extremly hot or cold.
MAXIVISION. Everything you need.
The latest generation of the MaxiVision cab further increases its functionality and provide to the operator outstanding comfort, paired with best ergonomics and a perfect all round visibility. For the first time, DEUTZ-FAHR is offering three variants to provide exactly the technological level suiting the customer's needs. MaxiVision is the entry level and is available on models equipped with 2 or 4 mechanical rear spool valves. It provides all the characteristics the operator is expecting from DEUTZ-FAHR, with a blend of simplicity and ease of use. All of the controls feature a comfortable, ergonomic layout and, in keeping with the DEUTZ-FAHR tradition, adopt the colour coding scheme so that even new drivers can quickly find their way around. The InfoCentrePro provides to the operator all the information necessary and, for the use of an ISOBUS implement or guidance, the 8 inch iMonitor is available as well. Seat options with up to 30 degree swivel together with the revamped air-conditioning system with its additional air-outlets; a sophisticated suspension concept, high quality materials and its size make the MaxiVision cab the perfect place to be, even on a long day of work.
MAXIVISION+. Your addition on comfort.
To satisfy the demand of increased productivity by farmers and contractors all over the world, DEUTZ-FAHR has evolved its MaxiVision cab and added a new variant which let the operator work smarter and faster, with increased comfort and ergonomics. MaxiVision+ is available on models equipped with the newly developed mixed rear hydraulic configuration, which includes two mechanical and two electro-hydraulic spool valves. While the mechanical spool valves score points for their ease of use, the electronic ones shine with their high level of comfort, especially during repetitive work processes. On models with Powershift transmission they are controlled through an electronic cross lever installed on the side satellite, which also controls the optional front lift. Models with RCshift transmission offer additional comfort, as the cross lever – which additionally might also be used for the front loader operation – is ergonomically placed on the armrest and includes a possibility to change driving direction. Besides the rear spool valves can also be controlled by two thumb wheels installed on the MaxCom joystick.
MAXIVISIONPRO. The best you can get.
The highest level of the MaxiVision cab sets the benchmark in terms of ergonomics and unleashes advanced features and functions in terms of automation, Smart Farming capacities and full connectivity. MaxiVisionPro is the premium level and available on models equipped with 4 or 5 electro-hydraulic rear spool valves. With this equipment the operator gets not only the advantage of fully electronically controlled spool valves but also the possibility to install the optional 12 inch iMonitor on the MaxCom armrest. Thanks to the size, the iMonitor is ideal for the parallel work with an ISOBUS implement, and e.g. the Guidance system. The ergonomic MaxCom armrest hosts all the controls the operator needs during the workday: transmission, hydraulic, PTO and lift as well as further tractor functions are perfectly integrated. In addition to the features already available on the other versions, MaxiVisionPro allows also to freely assign the spool valves to the different controls, which can be used for ISOBUS AUX-N functions as well. It is easy to see, working on a MaxiVisionPro cabin is a pleasure!
RCSHIFT OR POWERSHIFT: THE CHOICE OF TRANSMISSION TYPE IS YOURS.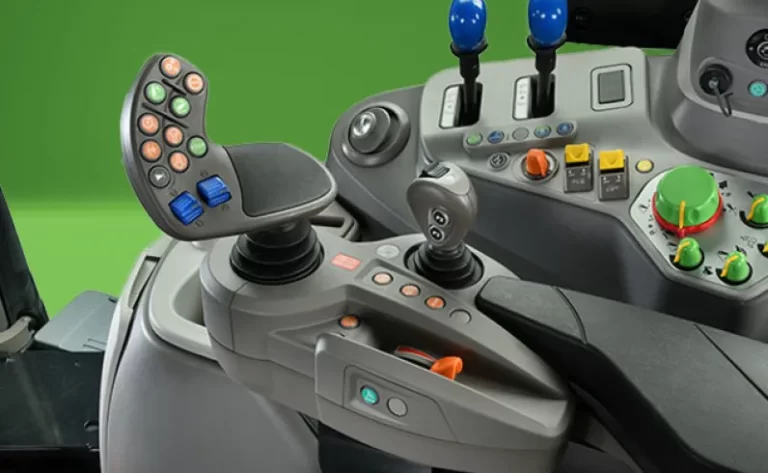 What is the main focus of your tractor? Simple farmyard work, grassland work, transporting, pulling implements in the field or a mixture of all? The new 6 Series offers exactly the right transmission for any driver demand and any budget. All transmissions are easy to operate and providing 50 kph at efficient engine speeds. In standard they include the hydraulic PowerShuttle for fast direction changes. Each transmission offers excellent efficiency, precision and driving comfort.
Powershift or RCshift
Powershift: The efficient all-round transmission with amnual gear changing
RCshift: The new fully automatic powershift transmission for optimum gear changes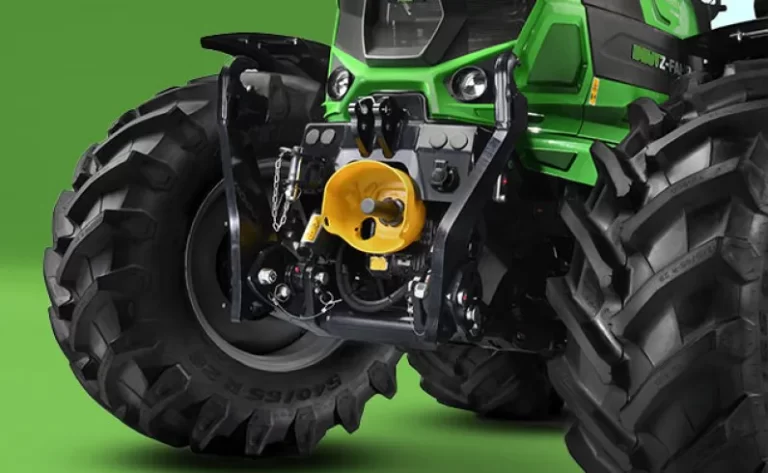 GREAT POWER AND MAXIMUM VERSATILITY.
With four PTO speeds 540/540ECO/1000/1000ECO at the rear in standard and 1000 or 1000ECO at the front, all work can be carried out very efficiently. With the DualSpeed front PTO option for 6 cylinder models the front PTO speed can be changed from the cab in the InfoCentrePro. This allows maximum operating efficiency at all times and means, that it is possible to operate frequently with the engine at low rpm. The InfoCentrePro provides clear, easily understandable information about hydraulic and PTO functions. All hydraulic and PTO functions can be easily set and controlled from the right console or armrest in the cab.
NO COMPROMISE BETWEEN SAFETY AND DRIVING COMFORT.
The new front axles, with their greater loadbearing capacity and an updated intelligent, adaptive suspension system provide the Series 6 with ultimate stability and comfort, both during the most challenging towing operations and when moving heavy loads. The innovative suspension concept stabilises the tractor during all transport operations and boosts driving safety. In order to guarantee better use on unstable terrain and on flat surfaces the InfoCentrePro can be used to select one of three different settings for the suspensions to optimize comfort in all working conditions.
PREPARED FOR A WIDE RANGE OF APPLICATIONS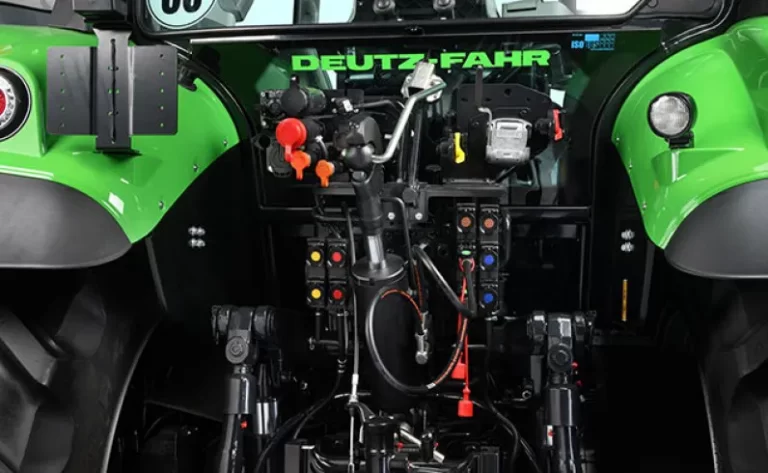 The attachment points of the new 6 Series are available with a wide range of feature options. For the hydraulics, you can choose between mechanical and electro-hydraulic controls, up to five hydraulic valves in the rear and two in the front, and a hydraulic pump output of up to 170 L/min, with a rear lifting capacity up to 10.000 kg. The models with the MaxiVision 2 cab have all the hydraulic inputs proportionally controlled, for a broader control of implements. A separate oil tank ensures an ample oil supply for the TTV models. The main hydraulics are offered with a Load sensing system or an open centre constant flow pump. The new front linkage system of the 6 Series TTV range is equipped with a position control function, providing greater control across a broader range of implements. The new front support with new integrated front lift is designed to match the front suspension, this solution provides a compact layout for maximum steering capability, offering up to 5.480 kg lift with up to 2 dedicated front valves. The front mounting area also features an integrated ISOBUS terminal.
Learn More About the NEW! 6 Series Powershift / RCShift