EasyCut B870CV and B870CR
One combination – up to every challenge
KRONE's EasyCut B 870 CV and CR utilize the tractor to the full and save time and costs. The advantage of the EasyCut B 870 CV and CR is they not only maximize your tractor power, but also save time and money. Incredible versatility and efficiency – cutting, conditioning, spreading, or swathing the crop in one single operation.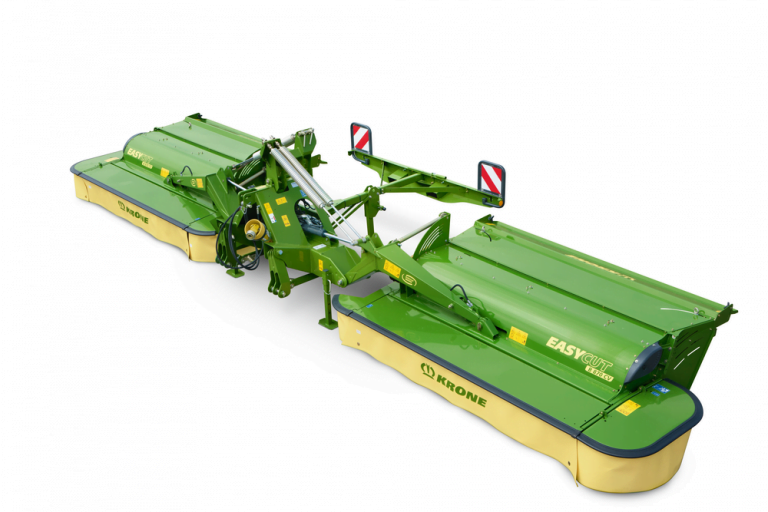 Working width: 8700mm (28'7")
Working width per rear mower: 3165mm (10'5")
Total transport width: 2780mm (9'2")
Storage Height: 3800mm (12'6")
Transport height at 250mm ground clearance: 3800mm (12'6")
# of discs: 10
# of top hats: 4
Quick-changing blades standard
SafeCut standard
B870CV: V-Steel tine rotor, 640mm (2'1") diameter, 600/900 rpm conditioner speed
B870CR: PU roller conditioner, 2x250mm (2x10'") diameter, 750rpm conditioner speed
option CV Collect Cross Conveyor Belts
1000 pto rpm
Dead weight: 2690kg-3380kg (5930lbs-7452lbs)
110-125kW (150-170hp) tractor power requirement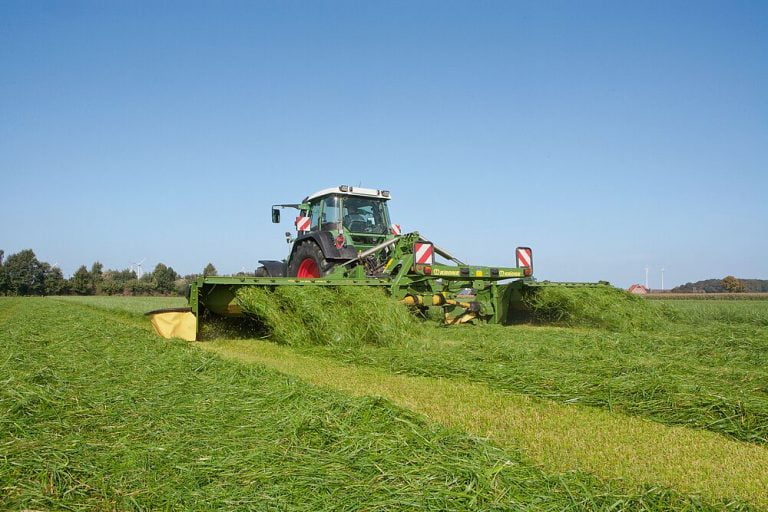 A KRONE exclusive!
The patented compensating rocker on the adjustable spring suspension system distributes the ground pressure evenly to both mowers. This feature guarantees cleanest cuts and forage, light pulling and protection of the valuable sward.

Simple driveline
The driveline is simple and efficient. A main gearbox on the headstock splits the power and sends it to the side mowers.

Double-acting rams
Double-acting rams provide dependable control of each unit as it lifts and lowers on slopes whereas single-acting rams lift them into headland position.

Limiting the pivot range
Hydraulic rams limit the transverse travel of the mowers that suspend in their centre of gravity, giving plenty of ground clearance during the headland turn or travel on public roads.
| | |
| --- | --- |
| Do | |
| NOT DELETE | |
| THIS TABLE | |
| IT CREATES CSS THAT IS USED | |
| in the ACF Repeater | |
| JET Engine fields | |
| for the engine specs - Ken | |
| DEF (AdBlue) Capacity | |
Learn More About the EasyCut B870CV and B870CR