EasyCut R 280 CV and R 320 CV
The KRONE CV rotor with V-shaped and grippy steel tines spreads the crop at the full working width. Its massive 64 cm diameter and the helical arrangement of the tines warrant a continuous crop flow, high throughputs and superior conditioning.
– Easy and quick operation
– Optional deflectors spread the material across the full width
– Infinitely variable swath widths
– Mechanical gearbox, variable conditioning intensity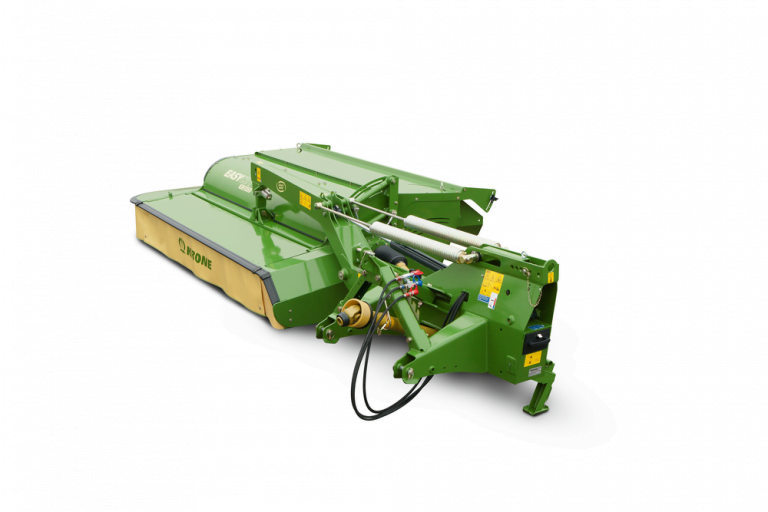 Working width 2.73-3.16m (8'11"-10'4")
Transport height 3.1-3.5m (10'2"-11'6")
4-5 discs
2 drums
SafeCut cutterbar standard
Quick-change blades standard
CV Steel tine conditioner
Mechanical gearbox 600/900rpm
Optional wide spreading deflector plates
540rpm pto standard; 1000rpm optional
Deadweight 1120-1260kg (2469-2778lbs)
51-59kW (70-80hp) required
Mechanical pressure control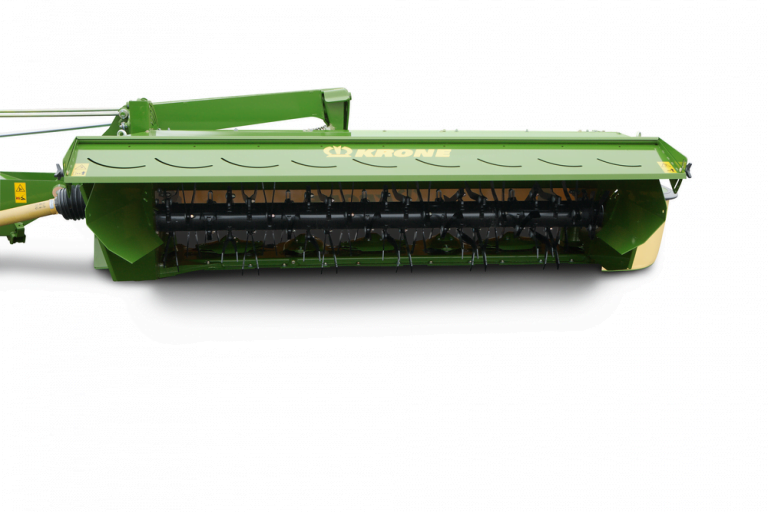 Firm grip on the crop
The v-tines are made from hardened steel and mount at a steep angle, treating the forage intensively and powerfully. The tines pivot to the rear when hitting a foreign object whereas forward pivoting is restricted to increase the service life of the pins.

Full-width conditioning
The tine conditioners on each mower span across the work width from the left to the right top hat, providing a uniform and consistent crop flow across the full width and giving optimum conditioning.

Intensive conditioning
The standard baffle plate on the CV conditioner adds to the conditioning effect of the tines for more intensive conditioning.

Stepless baffle plate adjustment
This lever in the multi-step gate varies the gap between the tines and the baffle plate. As you reduce the gap you increase the intensity of conditioning

The mechanical gearbox
Select 900rpm for intensive treatment and 600rpm for less intensive conditioning. Setting the speed is easy from the gearshift lever.
| | |
| --- | --- |
| Do | |
| NOT DELETE | |
| THIS TABLE | |
| IT CREATES CSS THAT IS USED | |
| in the ACF Repeater | |
| JET Engine fields | |
| for the engine specs - Ken | |
| DEF (AdBlue) Capacity | |
Learn More About the EasyCut R 280 CV and R 320 CV