The high-capacity EasyCut R 360 and R 400 mowers are mounted machines that score on enormous work rates and productivity, performing equally well in forage harvesting and field extensification.

The EasyCut R 360 and R 400 models offer the specification and operator comfort you deserve: excellent value for money, high acreage at low power input, centre-of-gravity suspension, the innovative SafeCut disc protection system, a compact transport position, straightforward operation and convenient handling. All these details are benchmark features on a machine of this size. Depending on specification and disc rotation, they spread or windrow the crop into two equal swaths.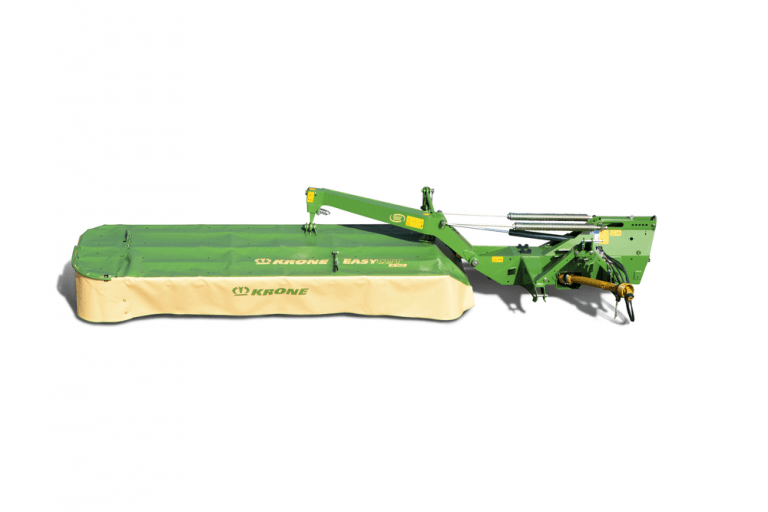 Working width 3.6m-4.04m (11'10"-13'3")
Transport height: R360 - 4m (13'2"); R400 - 1.5m (4'11")
Discs: R360 - 4/6; R400 - 5/7
4 or 2 Drums
SafeCut cutterbar standard
Quick-change blades standard
540 pto, 1000 optional
1040-1050kg (2293-2315lbs) dead weight
55-66kW (75-90hp) tractor power required
standard mechanical pressure controls (Hyd.optional)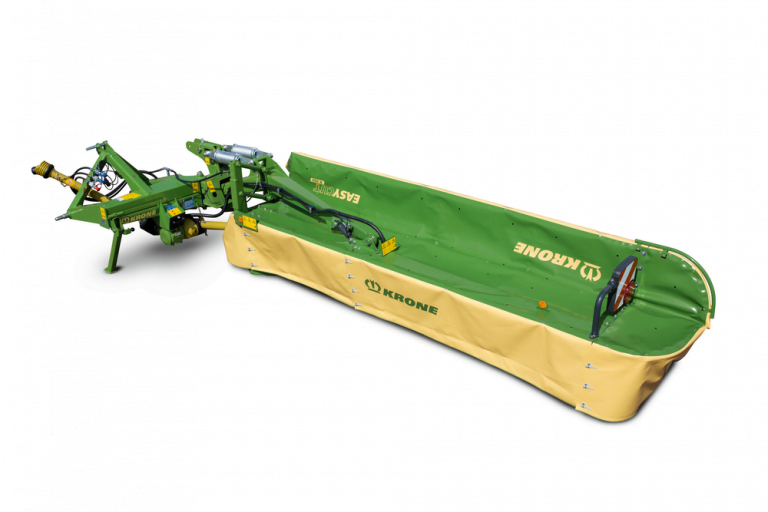 The three-point hitch
These two models have particularly strong headstocks. They can move sideways and the lower link pins can be refitted to adjust to suit different tractor track widths and to team up with a front mower.

Suspension springs
These two mowers have two very strong suspension springs that minimize the ground pressure. Operators can adjust the spring loading manually or hydraulically as an option from the tractor seat.

EasyCut R 360 in road transport
The EasyCut R 360 model swings up and beyond TDC behind and very close to the tractor improving ride comfort especially on small tractors

EasyCut R 400 in road transport
The EasyCut R 400 goes into transport position by moving in-line behind the tractor and folding up the front guard, turning into a narrow, low-profile transport unit for smooth passage underneath bridges and through gates and for safe travel on public roads.

No swathing
Spreading the material leads to faster wilting because it exposes a larger surface to the sun and wind, leading to very high-quality forage and fewer losses.

'B' sense of rotation for spreads across the full width
All discs on EasyCut R 360 and R 400 run with an opposed action and in pairs, spreading the material in a uniform mat across the full width.

'A' sense of rotation for swath formation
This is an option for those who try to avoid running over the cut crops. In this configuration only the two discs in the middle run with an opposed action, producing two swaths.
| | |
| --- | --- |
| Do | |
| NOT DELETE | |
| THIS TABLE | |
| IT CREATES CSS THAT IS USED | |
| in the ACF Repeater | |
| JET Engine fields | |
| for the engine specs - Ken | |
| DEF (AdBlue) Capacity | |
Learn More About the EasyCut R 360 and R 400