Looking for a high-capacity mower that works at widths of about 3.00 m? Then the KRONE EasyCut R 280 and R 320 with DuoGrip disc mowers are for you. These machines are packed with innovative features such as the DuoGrip centre-of-gravity suspension with manual or hydraulic suspension control, the unique auto-reset system and the optimized cutterbar for stripeless cuts.

KRONE disc mowers perform successfully in many different countries and conditions, where developers gain new insights and in-field experiences implementing these into the development of EasyCut. For example, the EasyCut R models can be stored in vertical position to save space in the machine shed. This is just one of many practical details on the KRONE disc mowers that save time and hassle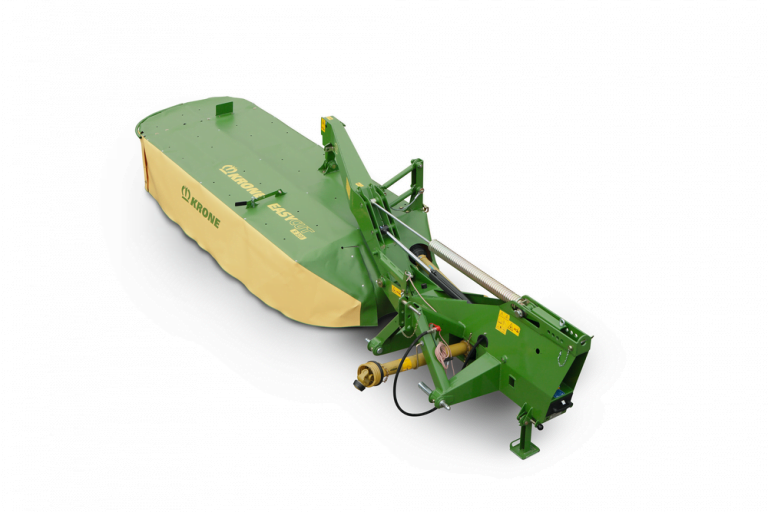 Working width 2.73m-3.16m (8'11"-10'4")
Transport height 3.5m-3.9m (11'6"-12'9")
4 - 5 discs
2 drums
SafeCut cutterbar standard
Quick-change blades standard
540 pto, 1000 optional
Deadweight 780-840 kg (1720-1852lbs)
40-50kw (55-68hp) tractor power required
Mechanical pressure control (Hydr. optional)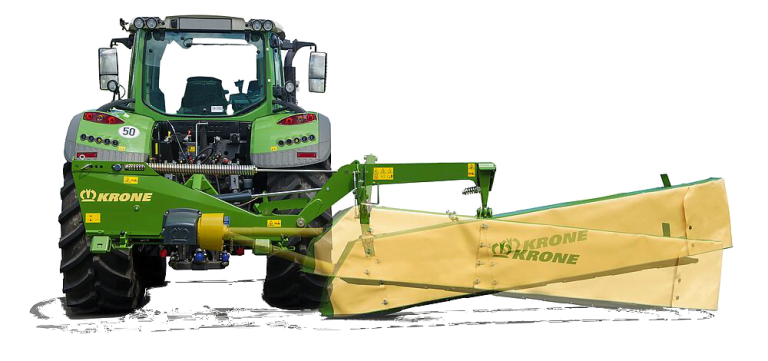 Spring suspension
The spring on EasyCut R 280 and R 320 is adjusted manually or hydraulically as an option. for best contouring in all types of terrain and also at high forward speeds

Constant-velocity and high-power driveline
The power flows down a frictional driveline of shafts and gears. The drive shaft boasts overrunning and friction clutches between the main gearbox and the mower providing maximum protection to the cutterbar, the universal joints as well as the tractor pto.

Full work width
EasyCut R280 and EasyCut R 320 have adjustable lower link pins that allow the machine to run offset behind the tractor and cut at full width at any track width, on side slopes and in combination with a front mower.

Added protection
The fold-up ends of the curtain are lined by bumper tubes that protect the curtain from damage when the machine hits an obstacle

Smooth and consistent crop flow
All EasyCut R 280 and EasyCut R 320 models have a cantilevered deck that enables an unobstructed crop flow. These mowers cut and swath across sloping fields and in awkward patches without any hiccups, delivering uniform swaths that speak for themselves.

Automatic
When the mower moves into transport position, the guard folds back to reduce the transport height. When the machines lowers into work position the guard, too, moves back into work position.

Great accessibility
The front curtain folds up to give convenient access to the discs for easy cleaning and blade replacement.

Handy box
Spareblades are neatly stored in this mobile drawer which eliminates clutter in the cab.

The tipper coupler will do
Only one single-acting ram with accumulator is required to swing the rear-mounted EasyCut R 280 and R 320 mowers from work position to headland or transport position and vice versa

A KRONE exclusive!
The vertical storage position saves space in the machine shed. The optional stands give the machine good footing and are useful for attachment and removal. But of course EasyCut R 280 and EasyCut R 320 also store in horizontal position.
| | |
| --- | --- |
| Do | |
| NOT DELETE | |
| THIS TABLE | |
| IT CREATES CSS THAT IS USED | |
| in the ACF Repeater | |
| JET Engine fields | |
| for the engine specs - Ken | |
| DEF (AdBlue) Capacity | |
Learn More About the EasyCut R280 and R320