Are you looking for a powerful trailed mower without conditioner that works at a width of about 3.16m? Then the Krone EasyCut TS 320 with DuoGrip centre-of-gravity suspension is the machine for you. This mower stands out for an extremely low power requirement, maximum stability as well as superior level of specification and operator comfort.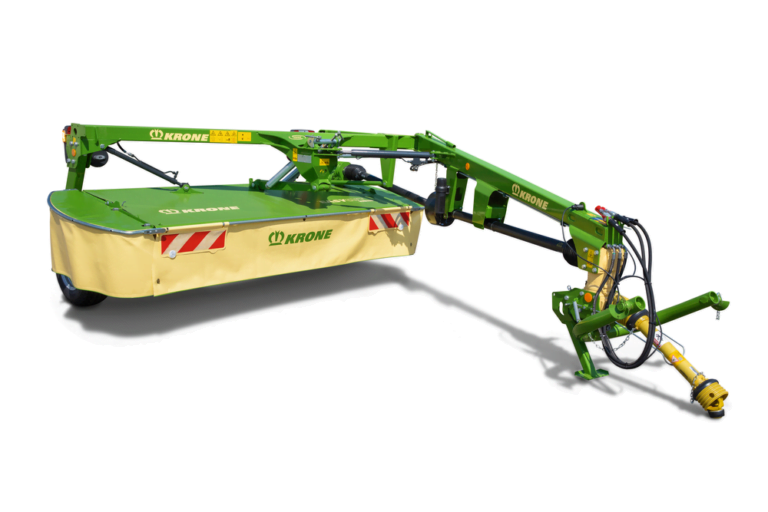 Side-mounted drawbar
working width 3.16m (10'4")
transport width 3m (9'10")
SmartCut cutterbar
5 discs, 2 top hats
SafeCut cutterbar protection
Quick-change blades
Optional high-cut skids
tractor power 59kW/80hp
1000 rpm, optional 540
output 8.6-9.9 acres/h
Ideal for low-horsepower tractors - less load on the rear axle
light-pulling and compact machine with a sturdy V-frame
Slewing gearbox for round and round work and on-the-spot turns
DuoGrip centre-of-gravity suspension
Convenient depth control from a crank handle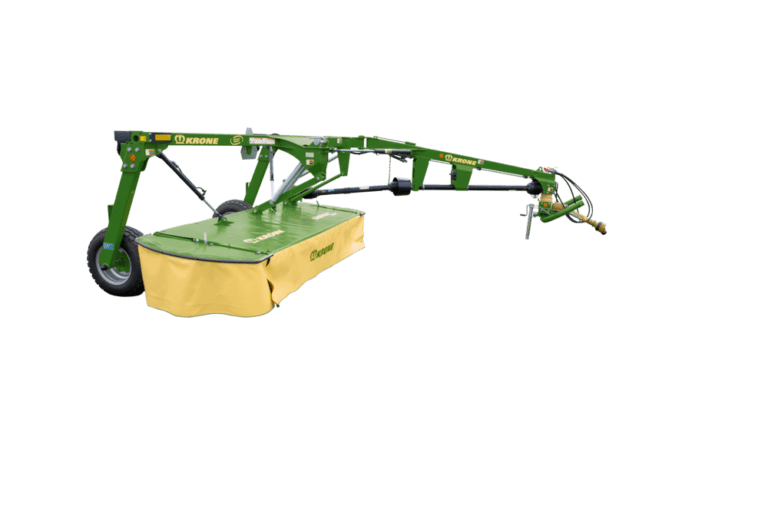 High operator comfort and light pull
The trailed EasyCut TS 320 without conditioner impresses by its superior performance, very light draft and good ride qualities. Compared with a mounted mower, the trailed machine reduces the load on the tractor's rear axle and its hydraulics. As another plus, it offers a much lower transport height and hence better road safety. The transport width does not exceed 3.00 metres.

Perfect contouring
The V-shaped frame of the EasyCut TS 320 model with side-mounted drawbar is robust and compact. Its generous ground clearance makes for plenty of vertical travel. Suspended in its centre of gravity and linkage controlled, the cutterbar swings back and up through a large angle avoiding obstacles, a design that ensures clean work also in undulating fields. The cutterbar is driven by a powerful right-angle gearbox which makes for a frictional connection and is arranged behind the inner top hat.

Optimum ground pressure at all times
It takes just a minute to adjust the machine perfectly to the current conditions. The cutterbar's ground pressure is set by tensioning the coil springs.

Agile
Equipped with side-mounted drawbar and slewing gearbox, the unit cuts around any bend. The two-point headstock attaches to the height-adjustable link arms – although the floating drawbar has become the preferred choice of attachment in some countries.

Easy maintenance
The front curtain folds up to give convenient access to the discs for easy cleaning and blade replacement.

Minimum space
Running inline behind the tractor, Easy- Cut TS 320 does not exceed the statutory 3 m transport width, gives plenty of ground clearance and is approved to 40 km/h maximum speed. This is the machine to travel quickly between sites.
| | |
| --- | --- |
| Do | |
| NOT DELETE | |
| THIS TABLE | |
| IT CREATES CSS THAT IS USED | |
| in the ACF Repeater | |
| JET Engine fields | |
| for the engine specs - Ken | |
| DEF (AdBlue) Capacity | |
Learn More About the EasyCut TS 320