Fortima Variable Chamber Round Balers
KRONE understands the needs of farmers. Providing high bale densities, KRONE balers are extremely robust, uncluttered and perfectly specified. Last but not least, they offer superior operational reliability.

The variable chamber round balers Fortima V 1500 and V 1800 meet all requirements. One machine produces 1.00 m to 1.50 m (3'3″ – 4'11") or 1.00 to 1.80 m (3'3″ – 5'11") diameter bales to cater for grass silage applications where smaller bale sizes are preferred as well as applications in hay and straw where larger bales are typical.

EasyFlow is a camless pick-up. The advantage of this is plain to see – a simple assembly uses fewer moving parts than controlled pick-ups with cam tracks and results in extremely quiet running, less wear and ultimately lower service and maintenance costs. EasyFlow – a powerful system that leaves no stem behind.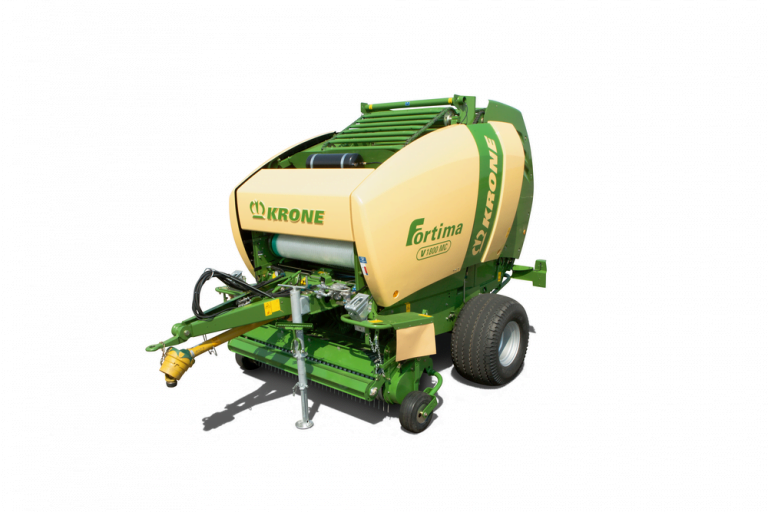 Bale Diameter: 1.0-1.8m (3'3"-5'11")
Bale Width: 1.2m (3'11")
Standard Feed rotor on V1500 and V1800 models
Standard Cutting rotor on V1500MC and V1800MC models; 17 blades at 64mm spacing
36-40kW (50-55hp) tractor power required
540 rpm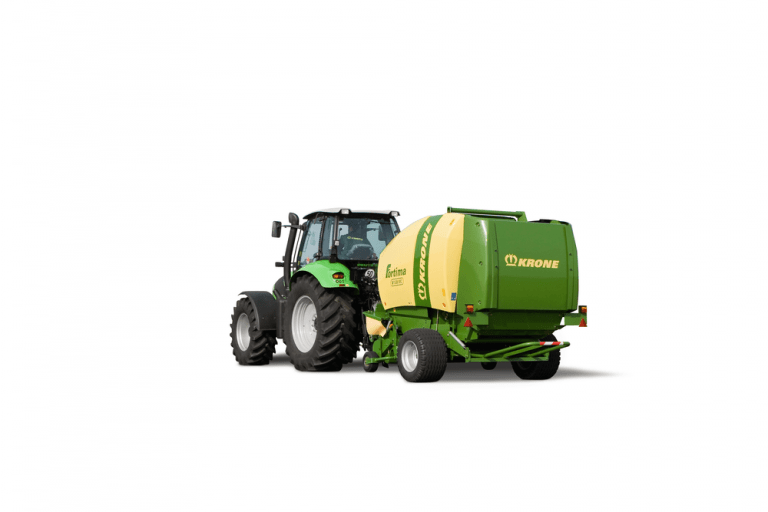 Small-diameter bales
Small diameters are typical in silage making, because small bales are easier to handle, break up and feed. The 1.00 - 1.30 m (3'3" - 4'3") diameter bales produced by Fortima V 1500 suit most wrappers perfectly

Big bales
Large-diameter bales are often preferred in straw and hay as they offer better efficiency, save on wrapping material and reduce labour costs.

The chain-and-slat elevators
Fortima is equipped with two chainand- slat elevators, one operating at the front end and the other at the rear to develop high baling pressures and produce perfectly shaped bales

The variable bale chamber
As more material enters the bale chamber, the two chain elevators press layer by layer to form tight and well-shaped round bales. The slats mesh with the crop to provide positive bale rotation at any stage of the baling cycle. The baling pressure is supplied by a hydraulic ram that actuates the tensioning arms at the front and rear ends. As soon as the bale has reached its preset diameter, twine or net wrapping is triggered. As a last step, the tailgate opens and the bale is ejected.

High-density and well-shaped bales
On the variable chamber model, two hydraulic rams, one on either side of the rear door, exert the full baling pressure at the rear of the baling chamber.

EasyFlow
The KRONE EasyFlow pick-up off ers a 2.05 m (6'9") working width (to DIN 11220), picking up every stem, also in corners and bends. The highlight of this pick-up is the special design of the galvanized scrapers that ensure a continuous and smooth crop fl ow when the tines retract. and eliminates the need for a cam track.

Powerful feeding and cutting rotor
The EasyFlow pick-up forms a compact unit that comprises either a feed rotor or a cutting rotor. The clearance between rotor and baling chamber was increased and the rotor was arranged right behind the pick-up itself to increase the intake capacity and ensure a consistent flow even in short stems.
| | |
| --- | --- |
| Do | |
| NOT DELETE | |
| THIS TABLE | |
| IT CREATES CSS THAT IS USED | |
| in the ACF Repeater | |
| JET Engine fields | |
| for the engine specs - Ken | |
| DEF (AdBlue) Capacity | |
Learn More About the Fortima Variable Chamber Round Balers