Krone BiG Pack Large Square Balers
One step ahead – with a KRONE BiG Pack. Whether you are making heavier, rock-hard bales with the BiG Pack HDP II or tying up to nine small bales neatly into one big bale with the MultiBale system, you'll always be ahead of the field, using first-time innovations you won't find anywhere else.

By buying a KRONE big baler you're investing in experience and expertise in baler design. With so much experience under its belt, KRONE knows exactly what farmers need in the field and offers a complete range of balers with different chamber dimensions. The Variable Filling System, the unique MultiBale system and the camless EasyFlow pick-up with mechanical drive rotor (Active Pick-up) are the stand-out features that have won international recognition and underpin the great success of the KRONE BiG Pack.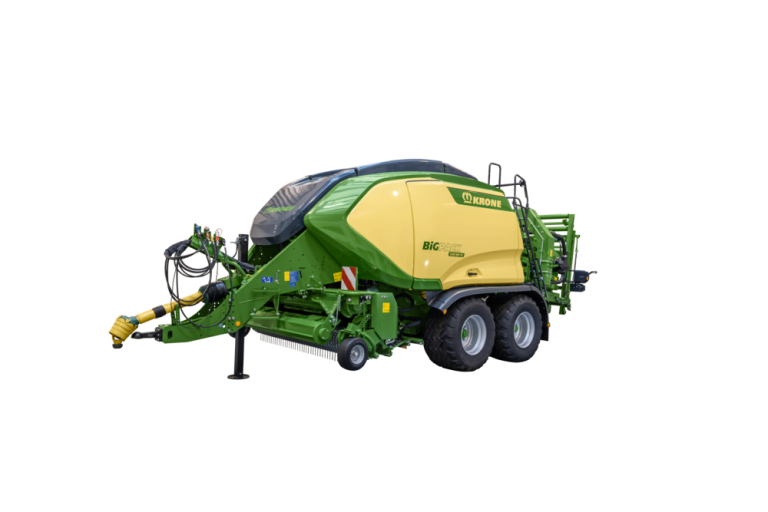 Chamber sizes from 80 x 70 cm to 120 x 130 cm
Active Pick-up – the camless EasyFlow with powered feed roller
VFS Variable Filling System
The X-Cut and VariCut cutting systems and the PreChop system
MultiBale system: Up to nine small bales in one single pack
Automatic baling pressure control
80-190kW (109-258hp) tractor power required
Air/Hydr. Brakes
Optional 16-51 blades
Optional BaleCollect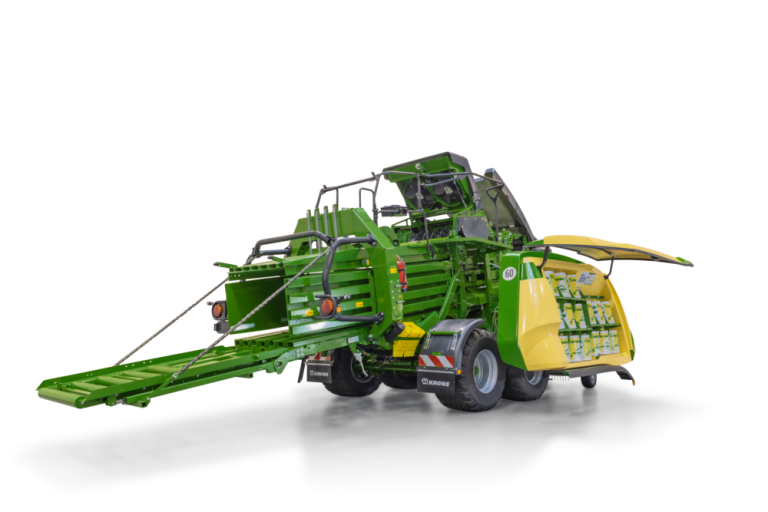 KRONE Active Pick-up
KRONE Active Pick-up – a clever combination of the tried-and-trusted camless EasyFlow Pick-up plus an additional powered feed roller. The speciality of this pick-up is the design of the galvanized scrapers, which ensure a continuous and smooth crop flow as the tines retract. EasyFlow can work 30% faster – allowing for faster forward speeds and higher throughputs.

KRONE XCut (XC)
With a full set of blades you can achieve nominal LOCs of 44 mm and 88 mm with half the number of blades in action. The feed tines are arranged chevron-style and are plated with wide Hardox steel, reducing power input and delivering the finest cuts, high throughputs and maximum longevity.

KRONE VariCut (VC)
The KRONE VariCut is an ultra-flexible multiple blade cutting system for the BiG Pack 1270 and BiG Pack 1290 HDP and comes with a choice of up to 51 blades. VariCut can produce short straw with a theoretical LOC of at least 22 mm – the ideal solution for animal feed or bedding.

VFS Variable Filling System
How the VFS system works: As the first step, the packer in combination with a feeder bar feed the material into the feed chamber where it is collected and pre-compressed. Once the feed chamber is filled to capacity, the feeder bar pushes the crop into the bale chamber. The VFS Variable Filling System from KRONE delivers rock-hard bales that keep their shape even in thin swaths and at slow forward speeds.

The driveline
The on-board hydraulic system with automatic baling pressure control ensures firm bale shapes and tidy edges, even in wet conditions and in different crops. Two sensors measure the current force of the plunger. A control system compares this measurement with the operator settings and the on-board hydraulic system automatically adapts the pressure exerted on the chamber walls.

The KRONE knotter system
The KRONE knotting system delivers a high-density and firm bale every single time. The double knotter technology on the BiG Pack 870 HDP is fitted as standard on all chambers measuring more than 70 cm in height, where it ties even high-density bales and crops that are prone to expanding into packs that hold. BiG Pack 1270 is fitted with single knotters as standard, but double knotters are available as an option.

KRONE MultiBale
Up to nine single bales are packed in one big bale: The award-winning KRONE MultiBale system makes bales much easier to handle. The small bales can be between 0.30 and 1.35 m in length. Naturally, you can also produce conventional big bales with lengths of up to 2.70 m.
| | |
| --- | --- |
| Do | |
| NOT DELETE | |
| THIS TABLE | |
| IT CREATES CSS THAT IS USED | |
| in the ACF Repeater | |
| JET Engine fields | |
| for the engine specs - Ken | |
| DEF (AdBlue) Capacity | |
Learn More About the Krone BiG Pack Large Square Balers