The new 5680 T pivot steered telescopic wheel loader offers maximum comfort for long working days. The machine has a new, larger cabin in the standard height. The enclosed cabin and quiet-running diesel engine means noise levels are low too.
The 5680 T has got a Deutz turbo engine with 55 kW (75 HP). The hydrostatic drive combines the best controllability and highest pushing power, and since all components of the drive train are perfectly matched, the fuel is converted into power sparingly and effectively. The standard hydraulic fan drive ensures quiet operation.
The maximum lifting height is 4.74 m. The 5680 T can be delivered with a protection roof instead of the cabin if requested.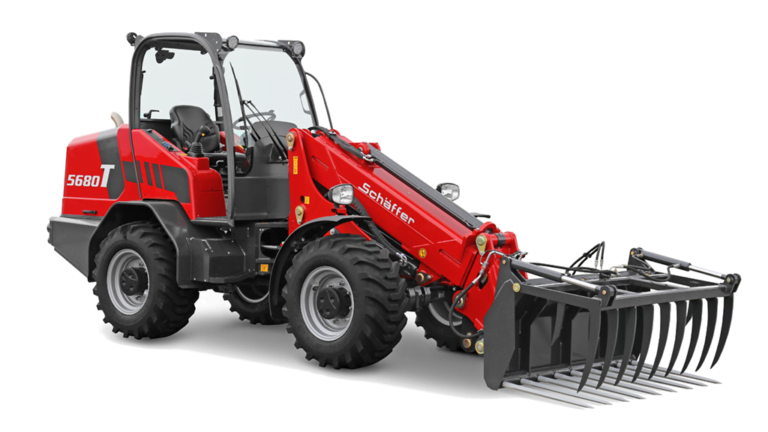 Deutz TD2.9l 4cyl engine
75hp
2120mm wheel base
4640-4840kg working weight
5432mm lenth with std bucket
2380-2580mm height
1570mm turning radius
2400kg lifting capacity
2660kg tipping load straight, pallet fork
4740mm lifting height (tool pivot)
3862mm tipping height (bottom edge of bucket)
The DEUTZ TCD 2.9 is a water-cooled 4-cylinder inline engine with cooled, external exhaust gas re-circulation. It is available with and without turbocharging and optionally with and without charge air cooling.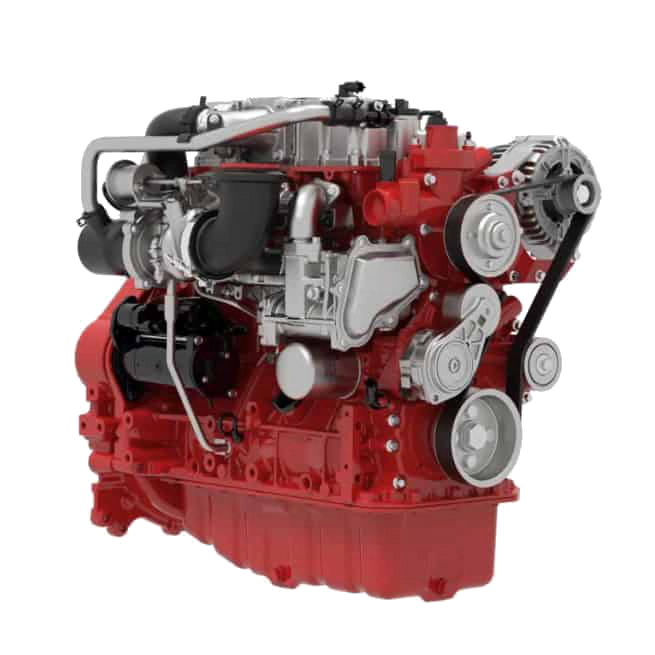 Engine
Deutz TCD2.9l

Rated / Max. Horsepower
75hp

Cylinder Displacement
4l

RPM at Rated / Max. Power
2600rpm

Max Torque
192 lb/ft
| | |
| --- | --- |
| Do | |
| NOT DELETE | |
| THIS TABLE | |
| IT CREATES CSS THAT IS USED | |
| in the ACF Repeater | |
| JET Engine fields | |
| for the engine specs - Ken | |
| DEF (AdBlue) Capacity | |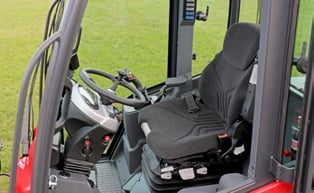 The new cabin offers more space and optimised all-round visibility.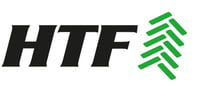 High Traction Force
Very high thrust forces
- No need to manually shift down a gear when going uphill
- Even at high speed the maximum thrust is always available, e.g. when driving in muck heaps
- Enhanced driving comfort, faster working
- HTF is standard equipment of all Schäffer telescopic wheel loaders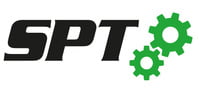 Schaffer Power Transmission
- Higher efficiency, lower fuel consumption and reduced operating costs
- Extra safety functions including overheating and over rotation protection to make the loader safer and more reliable
- 'Start up assistant' to make hill starts easier
- Different parameters for different drive characteristics
- Optional potentiometer that works to maintain a constant speed regardless of the motor speed. This is particularly useful when working with feed dosing units, straw spreaders, mulchers or brooms (using pedal control on 8620 T, 9640 T and 9660 T)
- Greater agility and more driving fun!
- SPT is standard on the 3650 T, 3650 T SLT, 4670 T, 5680 T and 8620 T and is optionally available for the 96 series.

Delivery rate: from 64 l/min
Operating pressure: 220 bar
Learn More About the 5680T