SCHÄFFER 8620 T:
COUNTLESS POSSIBILITIES.

The 8620 T is Schäffer's telescopic wheel loader with a
wealth of options so you can configure it to suit your needs.
The 8620 T has three engine options: a 75 kW/102 HP,
90 kW/122 HP or 100 kW/136 HP Deutz engine. The standard
driving speed is 20 km/h, but there is also an option with a
maximum speed of 40 km/h – particularly advantageous for
use outside the yard.
With an operating weight between 7 and 8 t, a lifting height
at the tool pivot point of 5.20 m and a lifting capacity of
4,200 kg, the new 8620 T telescopic wheel loader offers an
ideal combination of features for demanding loading work.
The loader is equipped with a hydraulically-driven fan as
standard. Optionally, it can also be operated in reverse
mode at the push of a button. The cooler is cleaned during
operation – a benefit in all conditions, but particularly when
working in dusty operating conditions.
The drive concept of the 8620 T is also new: HTF (High
Traction Force) and SPT (Schäffer Power Transmission) are
standard equipment even with the smaller motor.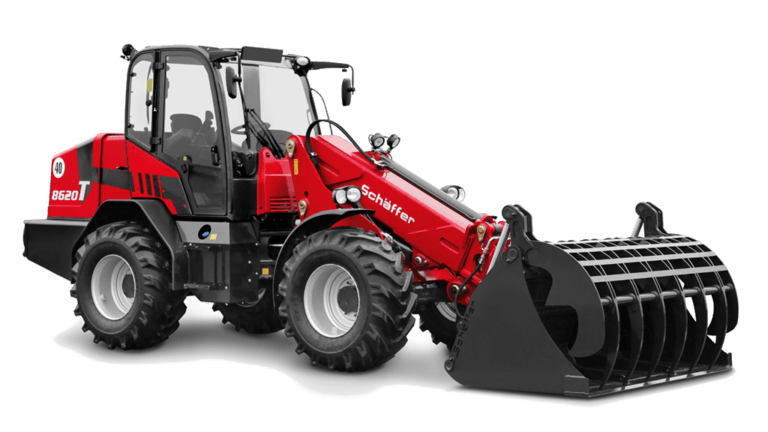 Deutz TCD 3.6 4 cyl diesel
up to 136HP
2535mm wheel base; 2770mm high
2240mm turning radius
4200kg lifting capacity
5480kg tipping load straight
5200mm lifting height (pivot tool)
4350mm tipping height (bottom edge of bucket)
Multiple disk brake, maintenance free; service and parking brake
The DEUTZ TCD 3.6 Diesel Engine is a water-cooled 4-cylinder inline engine with turbocharging and cooled external exhaust gas re-circulation. It is available both with and without charge air cooling.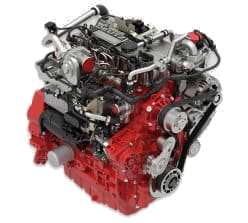 Engine
Deutz TCD 3.6

Rated / Max. Horsepower
136hp

Cylinder Displacement
3.6l

RPM at Rated / Max. Power
2300 rpm

Max Torque
369 lb/ft
| | |
| --- | --- |
| Do | |
| NOT DELETE | |
| THIS TABLE | |
| IT CREATES CSS THAT IS USED | |
| in the ACF Repeater | |
| JET Engine fields | |
| for the engine specs - Ken | |
| DEF (AdBlue) Capacity | |
SCV-Plus-Cabin: Silence, Comfort, View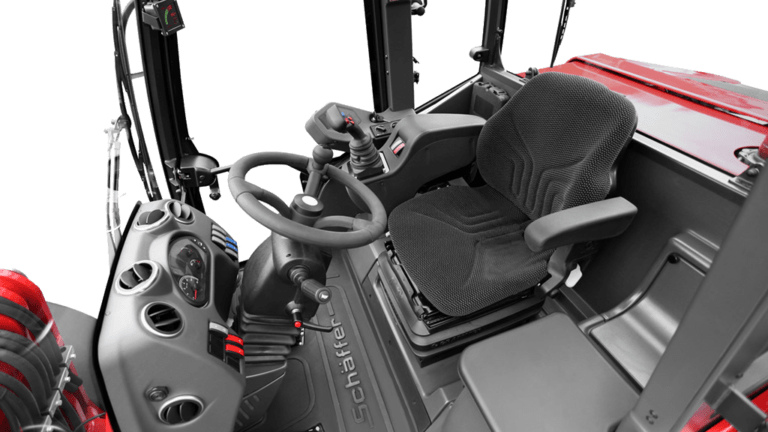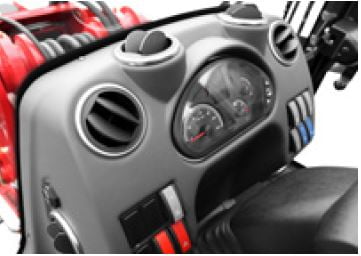 Our 6600, 8600 and 9600 range of telescopic wheel loaders benefit from the new SCV-Plus cabin. Even at first glance, the tidy dashboard, ergonomic operating elements and the new colour co-ordinated range of switches show that this is the highest quality.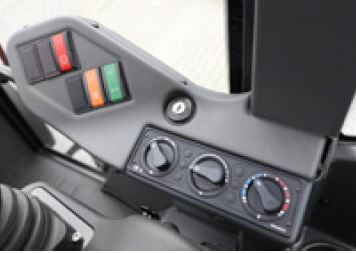 The ignition switch, along with the control system for the air-conditioning and heating systems is housed in a new console right next to the joystick. Additional, larger air outlets and removable side panels ensure the perfect supply of fresh air. With the new SCV-Plus cabin, the driver has a completely new feeling of ergonomics and comfort – nothing to stand in the way of a long working day.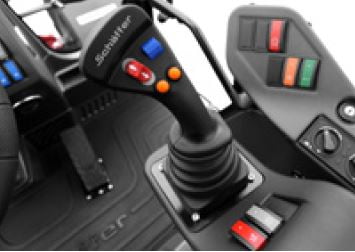 SCV stands for 'Silence, Comfort, View'. In the development of the SCV-Plus cabin, these ideas have been taken one step further. The operating elements are arranged in a more ergonomic way. The joystick is more comfortable to hold, additional functions speed up how you work. The extensive glass area offers the very best all-round visibility.
Schaffer Power Transmission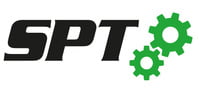 Electronically-controlled autodrive; adapts to the torque properties of the diesel motor.
Lower fuel consumption, reduced operating costs
starting aid makes it easier to start up on slopes
different parameters for drive characterisics can be set
Safety functions: including overheating and over rotation protection of the motor
Flow sharing working hydraulics, 105 l/min., proportional control of the telescopic arm
Learn More About the 8620T