Catros 12003-2TS trailed disc harrow
The Catros+ 12003-2TS trailed compact disc harrow is ideally suited for shallow and intensively mixing soil tillage. Thanks to its particularly easy pulling, irrespective of its 12 m working width, especially high speeds at high acreage Outputs are possible – and all this extraordinarily economical at a record breaking low fuel consumption.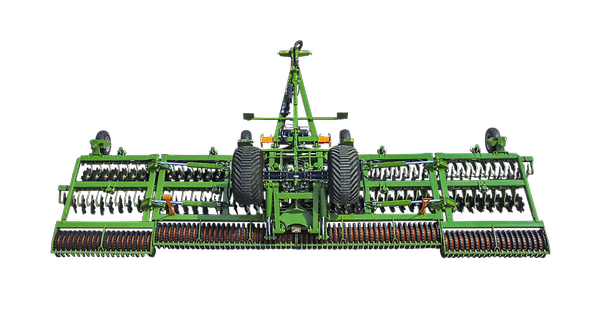 Catros+ 12003-2TS 12.0 m working width
Gigantic 12 m working width and from 360 HP tractor capacity
Maintenance-free disc bearings with slide seals and life-long lubrication
Maintenance-free stone safety protection via rubber sprung buffer blocks
Individual disc suspension for optimised contour following and excellent through passage
ContourFrame for optimum ground contour following of each individual section
On especially hard soils the working width can be reduced to 7 m to improve penetration
The optionally switchable drawbar bounce compensation damping ensures the optimum working performance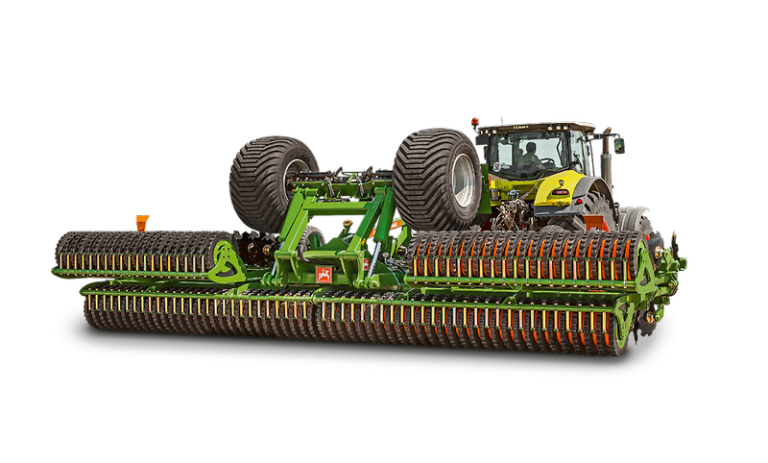 More aggressiveness! Reduction of the working width
Under especially rough conditions, such as, for example, on the headlands, the working width can be temporarily reduced to 7 m to improve penetration.

More comfort!
The oversized 700/50-26.5 running gear wheels provide an excellent handling behaviour of the machine on the road. For maximum comfort, AMAZONE offers, as an option, an electric central lubrication system. Due to the automated maintenance schedule, maximum Efficiency of the Catros+ 12003-2TS is achieved.

Perfect working performance
As, during operation, the weight of the centre running gear of the Catros-2TX, as well as that of the rear running gear on the Catros-2TS, impacts completely on the performance of the discs, ensuring a good penetration of the discs into the soil, even under difficult conditions.

Outstandingly low fuel consumption
With the Catros compact disc harrow, operational speeds of 12 km/h to 18 km/h are achieved problem-free, enabling outstandingly high work rates and reducing the operational time to a minimum. Important, however, for economic success, are both the fuel, and the wear and tear costs. In order to determine reliable figures for these costs AMAZONE has carried out trials in collaboration with the DLG test centre in Gross-Umstadt.
In all the tests, the Catros compact disc harrows proved to be extremely fuel efficient. So when stubble cultivating at a medium working depth of about 6 cm – depending on soil type and ground topography – an approximate fuel consumption of only 4 l/ha was measured. Similarly favourable were the consumption figures during seedbed preparation.

Catros+ discs – for an intensive mixing
The serrated Catros+ discs with a diameter of 510 mm are characterised by their more aggressive operation and a more reliable penetration even under difficult conditions. The optimum operational range of these discs is for stubble tillage, seedbed preparation and also the incorporation of catch crop residues.

No lubrication ever again – thanks to the maintenance-free disc bearings
With no need to lubricate the disc bearings, this results in a significantly reduced overall maintenance time. Face seals have been used for decades in road construction equipment where the rollers on the running gear of caterpillar-tracked vehicles have to be effectively sealed and continue to work absolutely reliably under the toughest of operational conditions.

Smooth, even ride
During operation the wings are pre-pressurised via hydraulic accumulators. The hydraulic pre-pressurising allows individual ground contour following on any of the sections, both upwards and also downwards. In this way, the machine Frame optimally follows the ground contours over the entire width and provides an even work profile over the entire working width. Thanks to the individual contour following, a smooth ride is possible even under difficult operational conditions and thus an even quality of work is guaranteed.
| | |
| --- | --- |
| Do | |
| NOT DELETE | |
| THIS TABLE | |
| IT CREATES CSS THAT IS USED | |
| in the ACF Repeater | |
| JET Engine fields | |
| for the engine specs - Ken | |
| DEF (AdBlue) Capacity | |
Learn More About the Catros 12003-2TS trailed disc harrow