The new ZG-TS 01 trailed spreader with hopper capacities of 7,500 l or 10,000 l enables even higher work rates with working widths of up to 54 m and working speeds of up to 30 km/h. The AutoTS integrated border spreading system and the GPS-Switch automatic part-width section control with up to 128 part-width sections provide very precise spreading results. The ProfisPro on-line weighing system guarantees continuous adjustment of the application rate, and the ArgusTwin spread pattern monitoring system provides perfect lateral distribution, even with varying fertilisers or in adverse weather conditions.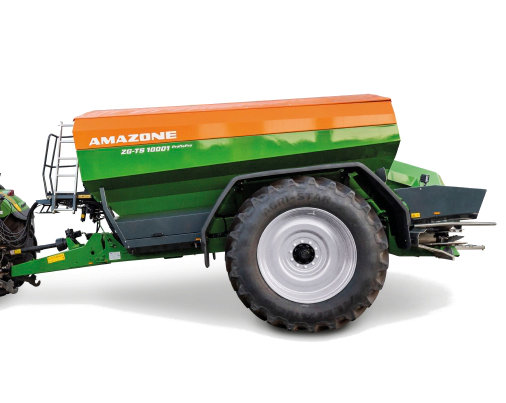 Precise spread patterns in working widths of up to 54 m with and up to 128 part-width sections
Maximum work rates at application rates of 650 kg/min and operational speeds of up to 30 km/h
ProfisPro on-line weighing system – for constant control of the application rate
Fill management with the external fill level indicator lights ensures the quick and accurate loading by just one person
Automatic checking and adjustment of the lateral distribution via the ArgusTwin spread pattern monitoring
Easy changeover between side, border and water course spreading from the tractor cab thanks to the integrated AutoTS border spreading system on both sides
New steering axle, true track-following of the spreader via axle steering with a steering angle of up to 28°
Equipment that suits every requirement: variable spread widths, agitation, internal hopper lighting, mobile or digital calibration kit, camera systems, and more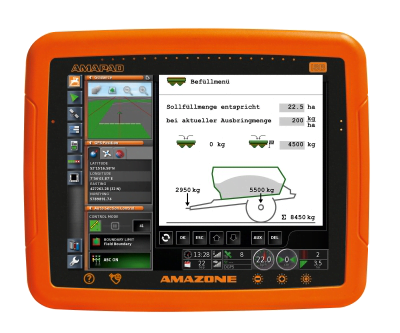 Enormous work rates
With hopper capacities of 7,500 l and 10,000 l, the ZG-TS models are especially efficient and ideal for large farm sizes which focus in particular on increased precision. Thanks to their size, valuable travelling and loading times are saved. Due to the large hopper opening, the loading procedure can also be carried out very comfortably via a front end loader or from a bulk filling system. The belt floor, automatically centred to the middle, ensures the optimum material flow. The low-maintenance floor belt is of course automatically controlled.

Perfect weighing system
With the ProfisPro, AMAZONE introduces a new weighing system, combining maximum comfort with optimised work performance. In addition to its core function where the on-line weighing function regulates the application rate, the weighing signals are used for other functions.

Intelligent technology
A new integrated weigh frame connects the hopper to the weigh frame via four weigh cells. This is completely separate to the chassis. Thus, there are no weight measuring points which are influenced by the traction forces of the tractor. The result is a high frequency and precise on-line-weighing procedure. A tilt sensor additionally compensates for the inclination of the machine on slopes. This signal is also used to register any tendency of the ZG-TS to drift down on a slope and, via the steering axle, to counter-steer the machine back in track.

On-line calibration
The signals produced from the weighing system are used for the on-line calibration and thus enables automatic regulation of the application rate via the metering shutters.

Manoeuvrable and comfortable
True track-following at track widths of 1.80 to 2.25 m
Increased driving comfort due to sprung-suspended and height adjustable drawbar system
Stable and robust chassis technology, designed for speeds of up to 60 km/h
Automatic braking force regulation
Oversized tyres reduce the ground pressure and allows operation even under the most arduous of conditions
Wheel diameters of up to 2.05 m possible

Soft Ballistic System pro For an even gentler fertiliser treatment
1. Gentle Guidance
2. Gentle Delivery
3. Gentle Acceleration
4. Gentle Ejection

AutoTS border spreading system
Complete control. At any time!
| | |
| --- | --- |
| Do | |
| NOT DELETE | |
| THIS TABLE | |
| IT CREATES CSS THAT IS USED | |
| in the ACF Repeater | |
| JET Engine fields | |
| for the engine specs - Ken | |
| DEF (AdBlue) Capacity | |
Learn More About the ZG-TS and ZG-B Spreaders