OUTSTANDING PROSPECTS WITH 5080G TB
Whether you work with special crops, on the farm, in the stables or in horticulture and agriculture – the new 5G TB is not designed for sideline jobs alone. The range of series equipment is unique. Highly efficient FARMotion engines (emission standard III B) with 80 hp, four transmission versions, from 10+10 gears to 40+40 gears with mechanical or electrohydraulic reversing switch (PowerShuttle), Stop&Go for starting up and stopping using just the brake pedal, SDD fast steering for achieving full steering lock with half as many turns of the wheel, four-wheel brake, mechanical rear power lift with a lift capacity of up to 4525 kg, front lift with a lifting capacity of 2100 kg (optional), 55 l/min hydraulic pump for up to three control units – complete your work in less time and with more precision and reliability than ever before with the large 5G TB special tractor. The driver's platform – which is suspended in a vibration-free position and has a new digital instrument cluster – fulfils the most demanding of comfort requirements. With the new 5G TB you can massively increase your productivity and thus the profitability of your enterprise. Make the decision now and gain outstanding prospects for the future.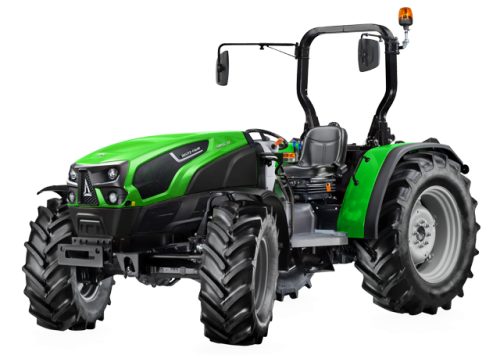 FARMotion 3.8l 4cyl engine
75hp
2400mm wheel base
3200kg
THE FARMOTION ENGINE. EFFICIENCY LIKE NO OTHER.
Hard at work under the newly designed bonnet are the extremely compact FARMotion four-cylinder engines (emissions standard III B). These common rail engines – which were specially developed for agricultural applications, with electronic fuel injection, optimised capacity, an EGR system (exhaust gas recirculation) and a DOC system (diesel oxidation catalyst) – supply maximum power and constant torque, even in low engine speed ranges. Fuel consumption, emissions, vibrations and the noise level are extremely low. Another new feature is the compact cooling system with a large cooling surface, charge air cooling, fuel cooling and optimised air flow with viscous-drive fan (optional). The dirt strainer has been divided into two for improved dirt separation and maintenance. The cooling system supports engine efficiency and is designed for long maintenance intervals as well as for maintenance to be quick and simple. You couldn't up your productivity in a more powerful and efficient way.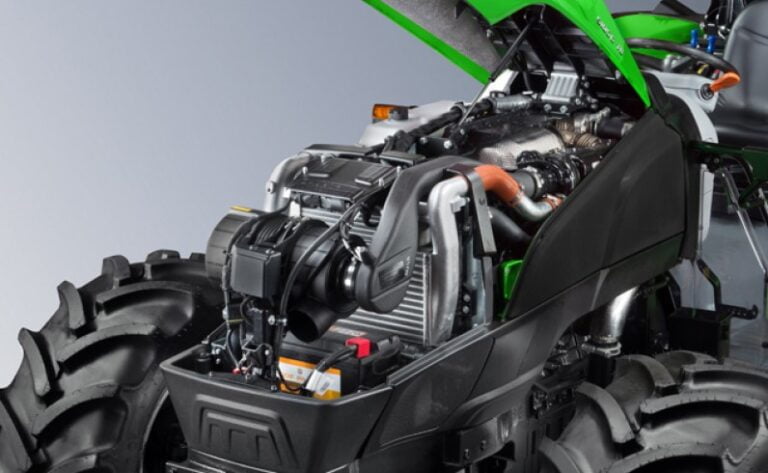 Engine
SDF FARMotion 3.8l 4cyl

Rated / Max. Horsepower
75hp

Cylinder Displacement
3.8l

Common Rail Fuel Pressure
2000bar

RPM at Rated / Max. Power
2200rpm

Max Torque
252lb/ft

Fuel Capacity
85l
| | |
| --- | --- |
| Do | |
| NOT DELETE | |
| THIS TABLE | |
| IT CREATES CSS THAT IS USED | |
| in the ACF Repeater | |
| JET Engine fields | |
| for the engine specs - Ken | |
| DEF (AdBlue) Capacity | |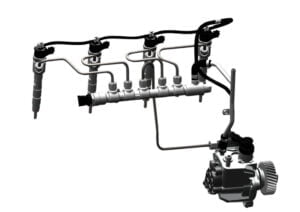 Common Rail
High Pressure common rail system ensures maximum power and fuel efficiency with low emissions.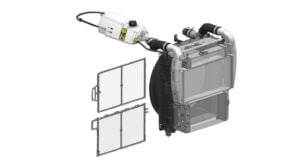 Cooling System
The new cooling system supports the engine efficiency and is very easy to clean.
DRIVER'S PLATFORM: COMFORT MAKES WORK EASIER.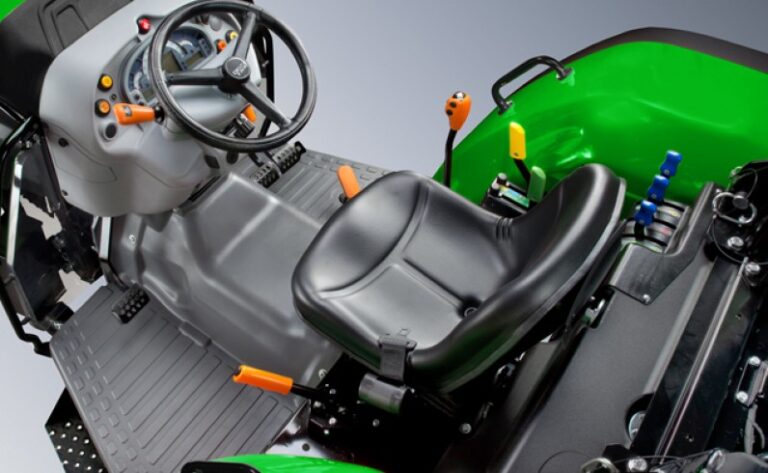 Drivers can only work with maximum speed and efficiency when everything is at their fingertips. This is why the new 5G TB guarantees maximum convenience and intuitive operation. The driver's platform, which is suspended on silent blocks, absorbs all vibrations. The driver's seat and steering wheel are adjustable, allowing every driver to find their perfect working position. The control system has been restructured in accordance with the latest ergonomics criteria. All the elements which control driving, gear changing, hydraulic and PTO shaft operation have been logically arranged according to the frequency with which they are used, placed within easy reach and colour-coded. The new instrument cluster in the steering column supplies the driver with all the relevant information regarding the driving and operating status of the tractor. It is clearly structured both in digital and analogue form. The driver can therefore concentrate fully on the work processes and complete the work quickly and precisely.
Low profile, straddle mount isolated platform
Roll bar with two posts, foldable
Digital and analog instruments
Mechanically suspended and adjustable driver's seat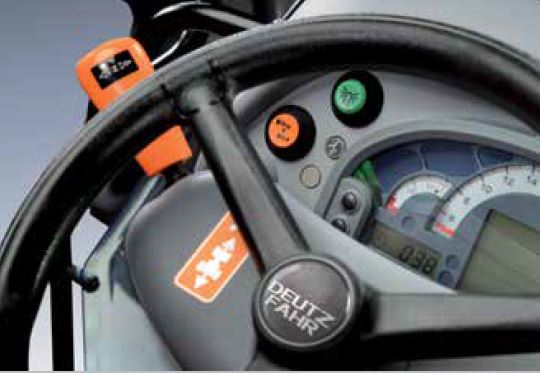 The new InfoCenter and all driving functions are clearly organized in the front dash and on the steering column.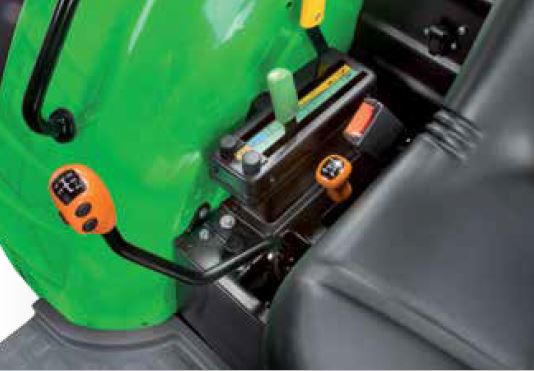 To the right of the driver: gear lever, rear power lift and hydraulic control units ergonomically organized.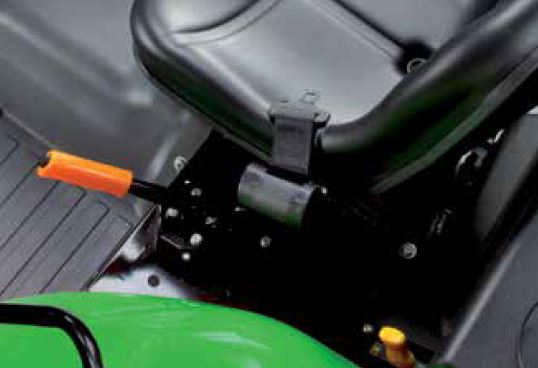 To the left of the driver: parking brake and PTO controls.
CONVENIENT TRANSMISSION. BECAUSE CHANGING GEARS IS A MATTER OF PRECISION.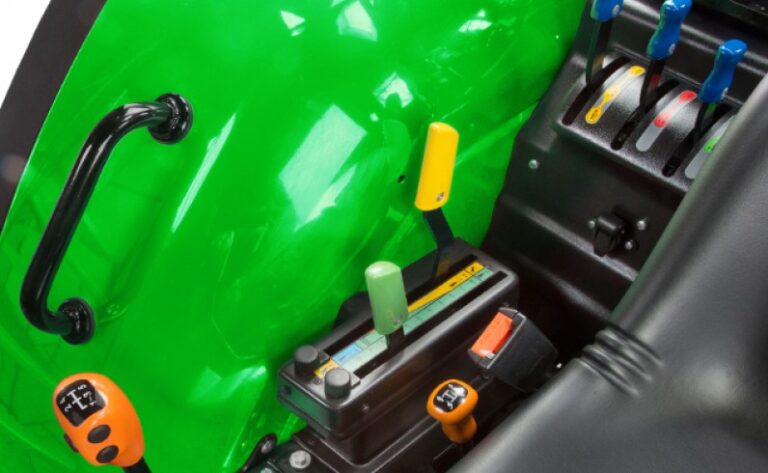 Power is good. Precisely applied power is better. The transmission technology of the new 5G TB series ensures that the driver always has the exact amount of power available that they need for the job at hand, either in the field and on the road. You can choose one of two transmission versions: A simple mechanical 10+10 or 20+20 gear transmission system with mechanical reversing switch (powershift speeds optional) or an electrohydraulically engaged 20+20 or 40+40 gear PowerShuttle transmission system. All transmission versions reach the maximum speed of 40 km/h at a lower engine speed in ECO mode. The PowerShuttle system allows the driver to change the direction of travel without using the clutch or disrupting the torque by simply using a lever near the steering wheel. The Stop&Go system makes it possible to stop and start up without using the clutch by only using the brake pedal. Both systems make manoeuvring, especially in tight spaces, significantly easier.
Hydraulic reversing gearbox - Power shuttle
Wet multi-disc main clutch
Stop&Go function
5-speed gearbox with creeper option; 20x20 or 40x40
De-clutch button on shift lever
540/540E PTO speeds; Push-button engagement; optional ground speed PTO
Hydraulic braking system; Four-wheel braking system with integrated front axle brakes
Independent parking brake - hand lever
Hydrostatic steering with independent pump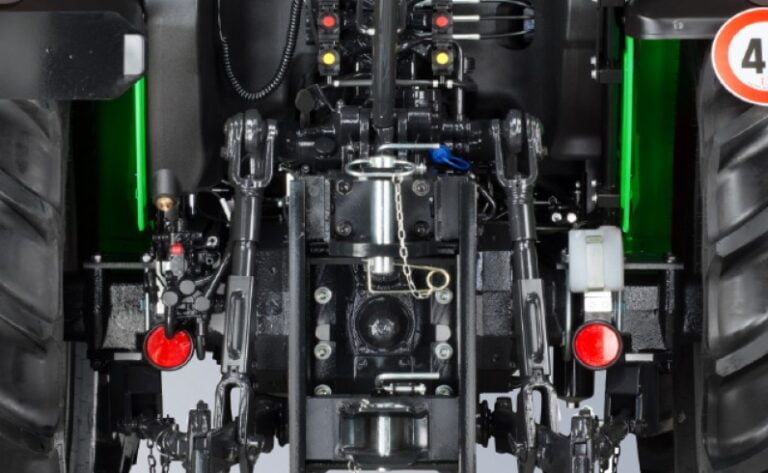 VERSATILE PTO SHAFT OPTIONS.
Four rear PTO shaft speeds are optionally available. With 540, 540ECO, 1000 and 1000ECO, the ground speed PTO with separate stub and the PTO shaft stub which can be removed, the 5G TB series models are genuine all-rounders. The front PTO, capable of 1000 rpm, also extends the range of applications your 5G TB can be used for.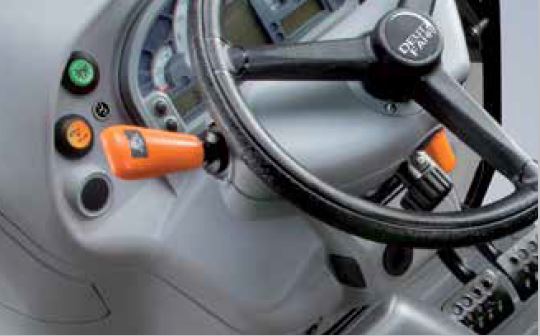 Electro-hydraulic power shuttle with wet multidisc clutch allows the driver to change direction without using the footh clutch pedal.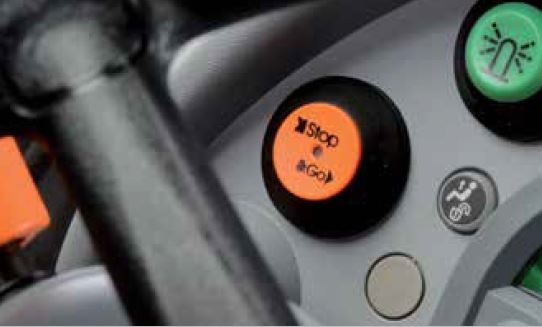 Stop&Go system: stop and start the tractor using only the brake pedal.
THE 5G TB RISES TO THE OCCASION.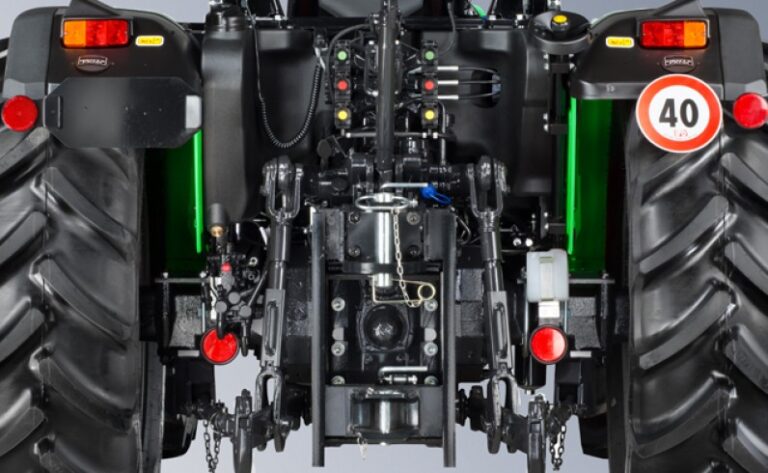 Anyone who wants to be more efficient needs to be able to do more. The greatest strength of the 5G TB series lies in its versatility. The standard version of the highly precise mechanical rear power lift, which can be controlled using smooth-running levers, can lift 3600 kg with the internal lifting cylinder. With two additional cylinders, the lifting capacity can be optionally increased to 4525 kg. And this can, of course, also be controlled from the rear mudguard. A front lift with a capacity of 2100 kg and a front PTO with 1000 rpm is available as an option. The OpenCenter hydraulic pump supplies an impressive 55 l/min. It supplies up to three double-acting control units at the rear. No matter what moves you or what you want to move – with the versatile 5G TB series, you're on the right track.
Learn More About the 5 G TB Series