HIGHER PERFORMANCE IN EVERY ASPECT
Made in Germany, the new 6 Series TTV stands out for its superior reliability and comfort as well as for even lower fuel and operating costs. This is due in part to the engine oil change interval, now set at an incredible 1000 hours, and in part to the transmission and hydraulic change intervals, now set at an amazing 2000 hours. The family's four models – the 6190 TTV, 6210 TTV, 6230 TTV and 6230 TTV HD – are equipped with the tried-and-true Deutz TCD 6.1 engine with maximum power and torque of up to 230 HP and 970 Nm respectively. All models rely on the brand new TTV transmission, with unprecedented smoothness and ride comfort and significantly improved efficiency.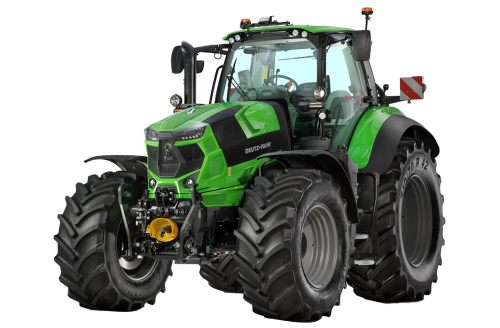 192-230 hp
8680-10325kg
2769-2918 mm wheel base
Deutz TCD 6.1
TTV Transmission
120-210 l/m load sensing hydraulics
Up to five hydraulic valves in the rear and two in the front
9200-10000kg rear hitch lift capacity - 5450kg front hitch lift capacity
Three PTO speeds 540ECO/1000/1000ECO at the rear; 1,000/1000ECO front PTO
8" or 12" Imonitor
THE HEART IS EVEN STRONGER The 6-cylinder Deutz TCD engine with turbocharger, intercooler and Common Rail up to 1600 bar, uses injection pumps lubricated by the engine oil. With the SCR, DOC and passive DPF package for exhaust after-treatment, it can perform to its full potential, guaranteeing minimum fuel consumption, which, when combined with its new large monolithic fuel tanks with capacities of up to 505 l (6230 HD), ensures an extremely long operating range. The passive diesel particulate filter used in the exhaust after-treatment system offers three advantages: no supplementary diesel injection to clean the filter, less production of heat, and decidedly quicker regeneration operations as compared with traditional filters. For transport on the road, an engine brake is available with a special foot pedal, increasing engine braking capacity by 40%. The additional braking force generated by the engine brake reduces wear significantly and increases the lifespan of the components of the conventional braking system. Engine available in Stage IV for EPA markets as well as in Stage III A for LRC markets.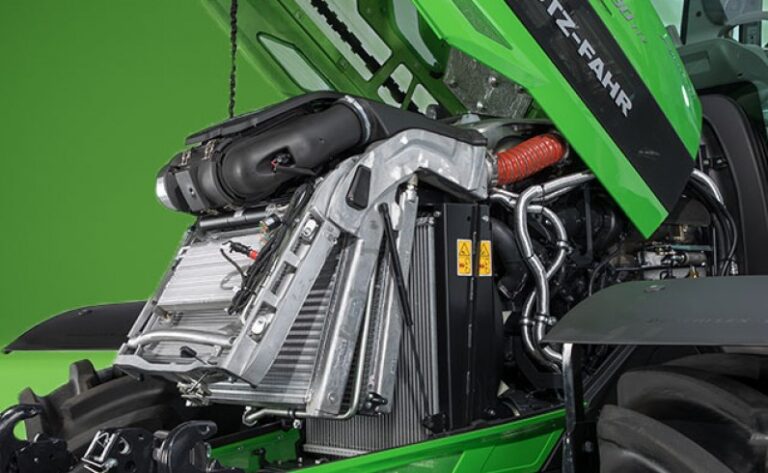 Engine
Deutz TCD 6.1

Rated / Max. Horsepower
191-225/192-230 hp

Cylinder Displacement
6.057 l

Common Rail Fuel Pressure
23206 PSI

Max Torque
821-970Nm

Fuel Capacity
420-505l

DEF (AdBlue) Capacity
29-35l
| | |
| --- | --- |
| Do | |
| NOT DELETE | |
| THIS TABLE | |
| IT CREATES CSS THAT IS USED | |
| in the ACF Repeater | |
| JET Engine fields | |
| for the engine specs - Ken | |
| DEF (AdBlue) Capacity | |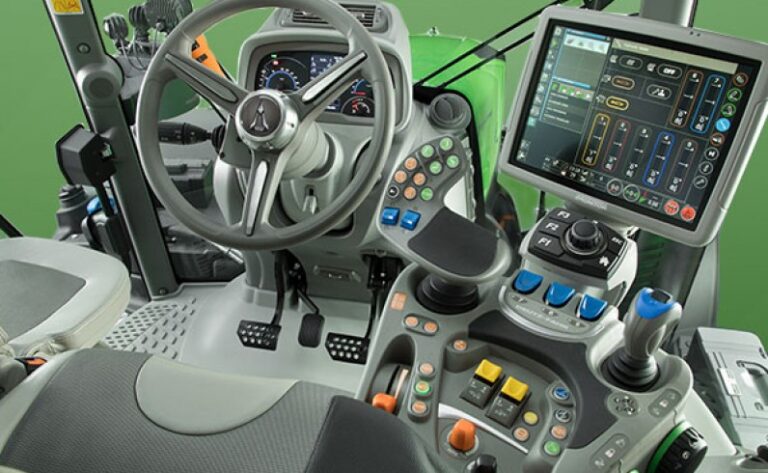 UNPRECEDENTED COMFORT The revamped MaxiVision 2 Cab raises the bar in its class, thanks to air suspension, high-quality materials, great reliability, and attentive controls design. A multitude of features can be controlled using the ergonomic joystick located on the armrest: from speed selection to driving direction, to the combination of ComfortTip actions, to front and rear lift controls. It is an intuitive and straightforward system that you don't even have to move your hand to operate. Having the cab separated from the engine compartment limits the transmission of heat, vibrations and noise, increasing comfort to car-like levels, so much that the internal noise is contained to 69 dB(A) with the engine at maximum rotation speed. Visibility is outstanding in all directions, even at night, thanks to its powerful LED lights. InfoCenterPro provides information that is always clear and accurate and the mini MMI allows for easy definition of all tractor settings. The openable roof is available in opaque and shading version, transparent with anti U.V. treatment or transparent in high density polycarbonate, with internationally certified FOPS protection.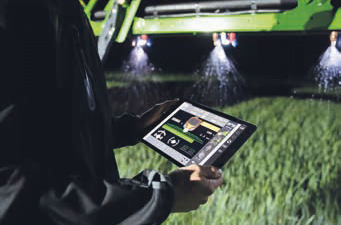 XTEND
XTEND allows the display area to be extended easily, with a tablet, for example. You can either display the guidance application or even fully control all ISOBUS-UT functions – with your tablet! It is a cost-efficient and user-friendly alternative solution to a second terminal.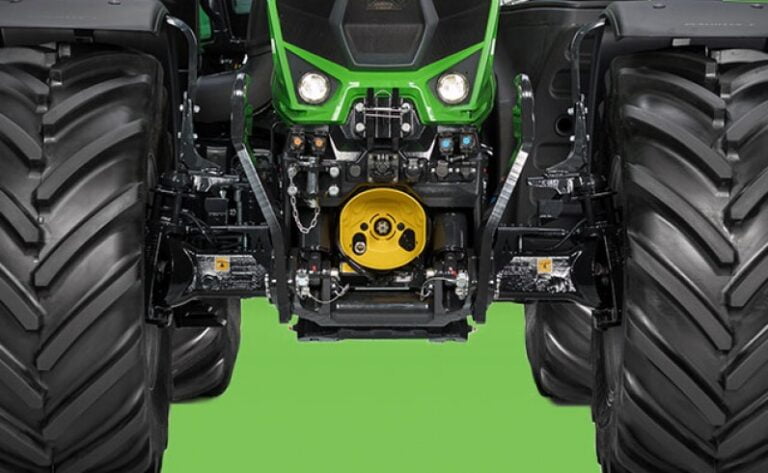 FOR MAXIMUM EFFICIENCY AT ALL TIMES
The profitability that can be obtained from a tractor is strictly connected to both operational capacity and operating affordability. The new 6 Series TTV stands out precisely for these characteristics: the engine offers outstanding performance, even at low rpm, whereas the PTO, which has electro-hydraulic activation that can be modulated through iMonitor, comes as standard with 3 electronic shifted speeds at the rear (540ECO/1000/1000ECO) and up to two at the front (1000 or 1000ECO). With the DualSpeed front PTO option those speeds can be changed from the cab in the InfoCentrePro. This allows maximum operating efficiency at all times and means that it is possible to operate frequently with the engine at low rpm, significantly reducing fuel consumption, wear of the moving parts, and noise in the cab, which also extends the routine service intervals. The interchangeable rear PTO shaft makes it quick and easy to swap out, facilitating connection with any equipment and also reducing costs in the event of damage. The PTO operating modes can be managed both from the armrest in the cab and from either rear mudguard. For a comfortable coupling of the implement, the rear PTO now also features a neutral position.
PREVIOUSLY UNIMAGINABLE EFFICIENCY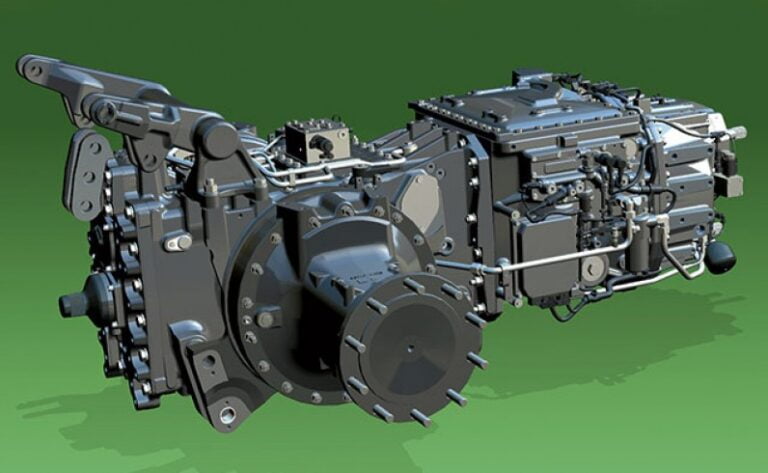 TTV TRANSMISSION
Based on the same layout already introduced in the 7 and 8 series TTV models, the new TTV continuously variable transmissions raises the bar in the category in terms of efficiency and reliability. A perfect combination of planetary mechanical components with two highly efficient high-pressure hydrostatic units, guaranteeing a consistently smooth and even power flow without jerks and with maximum performance, not to mention reduced fuel consumption and lower heat dissipation. The new powertrain, which is finally assembled in Germany at the Deutz-Fahr Land in Lauingen, features an exceptionally high-performance transmission, giving the new 6 Series TTV unprecedented acceleration and smoothness, as well as a significant increase in the torque transferred to the wheels. The new TTV transmissions also allow these tractors to attain a maximum road speed of 50 kph (models above 200 HP) at an engine speed of just 1800 rpm, while 40 kph is available at an incredibly low engine speed of around 1200 rpm.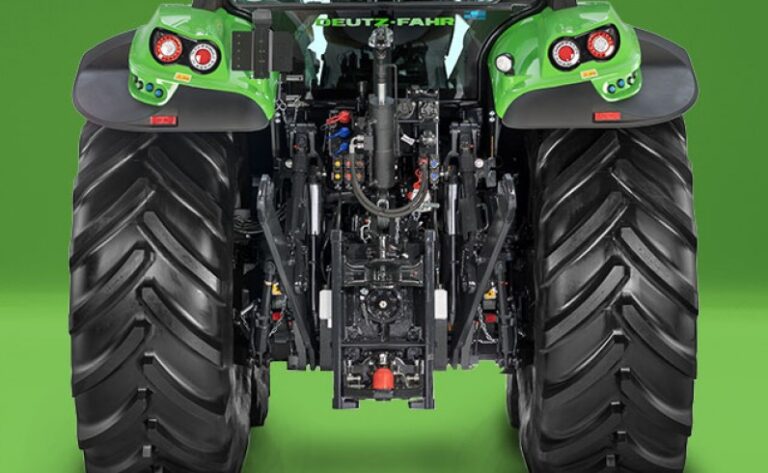 BEST-IN-CLASS PERFORMANCE
The hydraulic system of the new 6 Series TTV sets new standards in the segment. The hydraulic circuit is independent from the transmission lubrication circuit, guaranteeing long service life. The Load Sensing pump – available with flow rates of 120 or 160 and, for the 6230 TTV HD, even 210 l/min – increase efficiency and reduce losses to a minimum. Up to 90 litres (or 60 litres on the models 6190 – 6230 TTV) of oil is on tap for hydraulically operated implements, while these tractors can be equipped with up to 5 hydraulic distributors at the rear and two at the front (in addition to the front lift distributor, if installed). All the distributors are electronically controlled and they can be programmed and controlled proportionally. The Power Beyond connection is available, including with clean-looking flat fittings. The powerful rear lift has a capacity of up to 10,000 kg. A new feature on the new 6 series TTV is the integrated transport position for the lower links as well as the optional hydraulic side stabilisers. A front lift is naturally also available, with position control and an incredible 5,450 kg of maximum capacity. All of this is rounded out with an intuitive interface for easy connection of compatible ISOBUS equipment available at the rear and front.
Learn More About the 6 Series TTV