EasyCut F320CV, F320CR, F360CV, F360CR, F400CV Fold
Front Mowers with CV tine or CR roller conditioners
The front mowers F 320 CV with tine conditioner and F 320 CR with roller conditioner are specialists that warrant high-quality forage. Featuring either a large 64 cm diameter tined rotor or two 25 cm conditioning rollers, these mowers are the pros that deliver high-quality forage and best conditioning even in high-yielding crops.
The KRONE EasyCut F 360 CV and CR front mowers can have a pushed or pulled cutterbar. Working at a width of 3.60 m, the machine suits wide tractors with oversize tyres. More generous overlaps within the combination result in clean cuts on slopes and in curves and make for larger work widths in general.
This first foldable cutterbar on the market is awarded the DLG Silver Medal at Agritechnica 2019. The KRONE development translates into maximum efficiency, maximum overlaps and maximum road safety. From a fingertip control, the operator activates a hydraulic slewing gearbox and swings the ends in front of the cutterbar without disconnecting the driveline.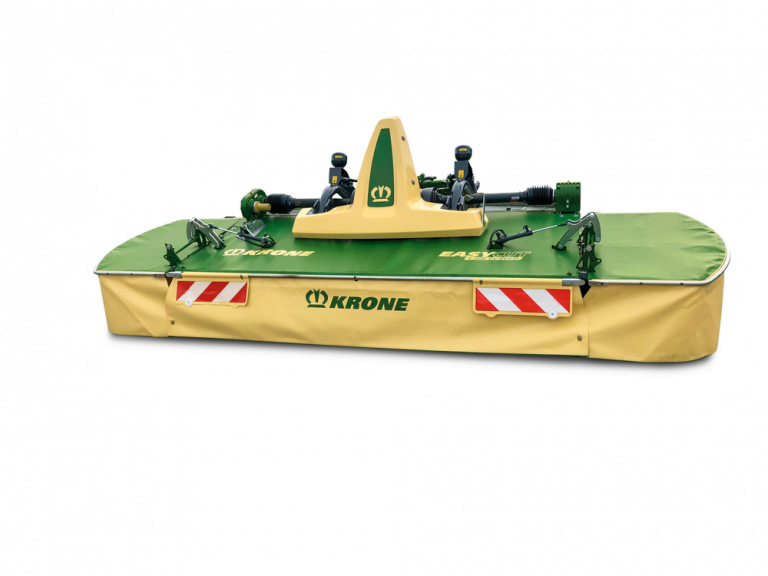 Working widths: 3.16-4.04m (10'4"-13'3")
Transport widths: 3.0-3.45m (9'10"-11'4")
Push version standard; Pull version optional (not available on F400CV)
5-6 discs
2 swathing drums
SafeCut cutter bar standard
swath width: 1.3-3.0m (4'3"-9'10")
CV models: CV tine conditioner with mecahnical gearbox (not available on F400CV)
CR models: CR roller conditioner with optional top roller drive
1000rpm pto speed
1080-1750kg (2381-3858lbs) dead weight
59-74kW (80-100hp) tractor power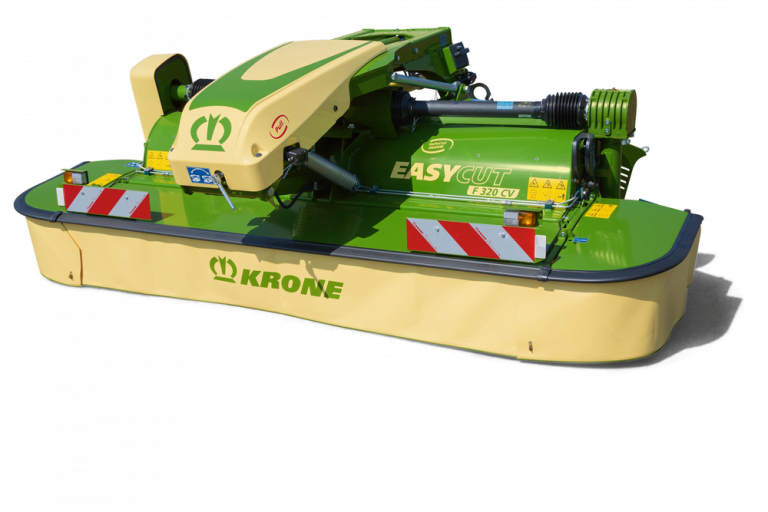 Pushed or pulled
With no A-frame required, there is plenty of space around the headstock. The pushed design makes for a very compact machine, reduces weight and is gentler on the turf. The transverse pivoting action is provided by the tractor's link arms. The pulled version has the suspension springs integrated in the machine's suspension system. The tension of the two springs is controlled from one single crank.

Better road safety
A CCTV camera system is an option for all models that are coupled without A-frame. The system is DLG certified and offers two views on the same screen for improved visibility in awkward situations. For example, narrow field gates are now easily managed without a helper. The package comprises two cameras, the display screen and the necessary wiring.

Large suspension travel
The pulled headstock design allows the machine to break back and up through a larger angle, hence making it more suitable for operation in rolling land.

Narrow in transport
Each end of the guard can be folded back to bring transport width down to 3 m. This can also be done hydraulically from the tractor as an option.

Spring suspension
Adjustable springs optimize the ground pressure and make for perfect cuts. The suspension springs are integrated in the linkage, a design that eliminates the need for attaching and removing them when attaching/removing the machine.
| | |
| --- | --- |
| Do | |
| NOT DELETE | |
| THIS TABLE | |
| IT CREATES CSS THAT IS USED | |
| in the ACF Repeater | |
| JET Engine fields | |
| for the engine specs - Ken | |
| DEF (AdBlue) Capacity | |
Learn More About the EasyCut F320CV, F320CR, F360CV, F360CR, F400CV Fold