Swadro 1400 and 1400 Plus
Four-Rotor Centre Delivery Rakes
Swadro 1400 and 1400 Plus from Krone have four rotors that work at variable widths between 11m (36'1″) and 13.5m (44'4″) coincide with work rates of up to 13ha per hour. These machines stand out for enormous acreages, quick changeovers, rapid travel, great longevity and easy use.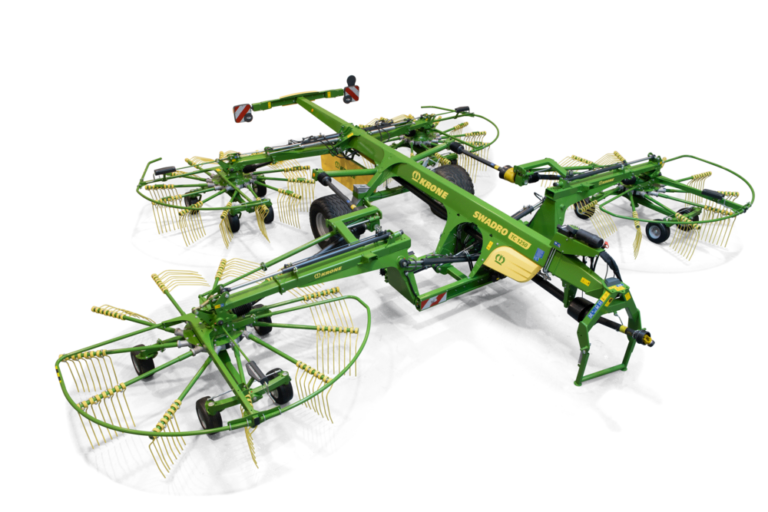 up to 13.5m (44'4") working width
convenient handling form a choice of KRONE operator terminals or an existing in-cab ISOBUS terminal
Foldable tines (Swadro 1400) or a hydraulically lowering chassis (Swadro 1400 Plus) reduce the transport height to less than 4m (13'2")
Vary the work width easily from 11 m (36'1") to 13.50 m (44'4") and adapt to any field situation. At the same time, vary windrow widths from about 1.40 m (4'7") to 2.20 m (7'3") by adjusting the rear rotors. The leading rotors operate at higher speeds than the ones at the rear, throwing the crop wide and ahead of the rear rotors which rake it into uniform and fluffy windrows without roping.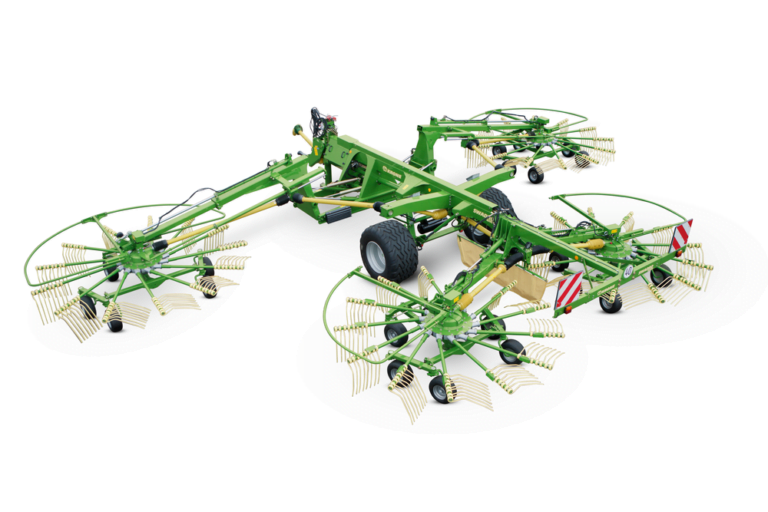 Robust and flexible rotors
All rotors have cardanic suspension for best contouring and each rotor has 13 tine arms, each being equipped with four double Lift Tines.

The KRONE Tridem running gear
The Tridem bogies have two standard castering wheels clad with wide tyres running on the front and rear axle. The rear axle can take offset castering wheels in a tandem arrangement, offering particularly smooth rotor control and running in difficult terrain.

Great frame stability
Designed to perform in professional applications that subject the material to great stresses and strains, Swadro 1400/1400 Plus was given an extremely robust frame to meet those stringent user demands.

High-clearance frame and wide lift-out
The special attachment of the rotor arms and the fact that the main beam remains level ensure the rotors can lift out high. A sequence control system always lifts and lowers the leading rotors first and the rear rotors only afterwards to produce uniform ends.

Optimized driveline
Movable gearboxes mount far out on the wings to optimize the driveline. Swadro 1400 Plus features heavy-duty driveshafts and the rotors are protected by star ratchet clutches.

Spring-loaded arms
Tension springs shift much of the arm and rotor weight to the main frame, thereby preventing the rotors from sinking into wet ground and ensuring positive tracking in sloping fields.

The hydraulic working width control
The work width on the front and rear rotors is adjusted by telescoping the arms hydraulically, thereby moving also the positions of the right-angle gearboxes which drive the front rotors. This system warrants effective overlapping of both ends of the driveshafts irrespective of the current work width.

The electric control work height control
Controlling the height of the rotors conveniently from a cab-based terminal with large display screen is standard specification on these models. This way, the operator adjusts all rotors at once or each rotor individually. Swadro 1400 Plus allows operators to set the height on one rotor and then have all others adopt the current setting.

On-board electronic box enhances operator comfort
All major functions of Swadro 1400 / 1400 Plus are controlled by the ISOBUS-compatible KRONE on-board control box which is operated from a cab-based operator terminal such as Alpha, Delta, CCI 200 or any other ISOBUS-compatible tractor terminal.

Attaching to the tractor links
The two-point headstock pivots sideways, giving generous lateral movement without straining the driveshafts of course.

The ball hitch
The rake is also available with a ball hitch system which makes for easy and fast attachment and removal. Also, there is no jolting and travel is safe and comfortable.

A comfortable transport height
All Swadro 1400 models have transport height of less than 4 m (13'2") after folding the outer tine arms. This is not necessary on the Swadro 1400 Plus where the undercarriage is simply lowered hydraulically.

The running gear
All Swadro 1400 models have running gears that offer wide trackwidths, big flotation tyres and air brakes. Giving a transport width of less than 3 m and transport height of less than 4 m, they can easily travel at 40 km/h (25 mph) on public roads. The Swadro 1400 Plus runs on an undercarriage that offers hydraulic height control (
| | |
| --- | --- |
| Do | |
| NOT DELETE | |
| THIS TABLE | |
| IT CREATES CSS THAT IS USED | |
| in the ACF Repeater | |
| JET Engine fields | |
| for the engine specs - Ken | |
| DEF (AdBlue) Capacity | |
Learn More About the Swadro 1400 and 1400 Plus