Swadro 710/26T Twin-Rotor
Featuring as many as 13 tines, the KRONE 710/26T twin-rotor side delivery rake not only offers excellent value for money but also the cleanest rakes. Swadro 710/26T forms single and double swaths as well as two narrow swaths side by side. Naturally it offers hydraulic work width control and swath width control by adjusting the main beam.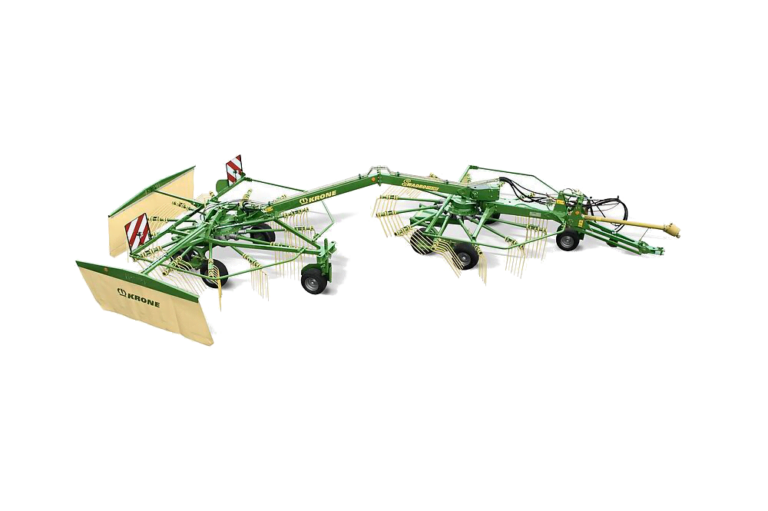 Single and double swathing
right-hand swath presentation
variable work width
Hydraulic crop deflector adjustment
13 tine arms per rotor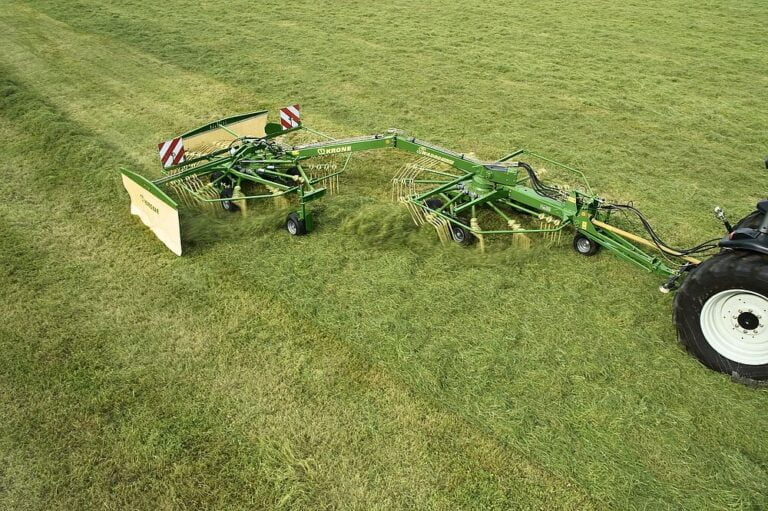 Attaching to a pivoting or linkage drawbar
The drawbar - floating or linkage drawbar - is heigh-adjustable and the hitch ring is controlled by a parallel linkage. The hydraulic ram on the drawbar maintains the leading rotor parallel to the ground as it is lifted and lowered.

The tandem axle
A wide wheelbase with 18" wheels provides excellent contouring. The wide wheelbase of the front axle provides optimum stability in sloping terrain. The working height is adjusted the pin setting systems

Adjusting the lateral rotor tilt
Clewan and loss-free rakes are the foremost goal which has to be achieved in heavy crop as well. Adjusting the rotor's lateral tilt is easy fronm this threaded spindle so that the rotors will also pick up the extra material that is building up on the curtain.

Swathing all material to the right, forming one single swath
Thes is the swath presentation that suits high-capacity harvesters and light crops

Shifting the rear rotors left/right
Operators can quickly shift the rear rotor to the side by operating a ram that also varies the work width when forming one single swath

Swathing all material to the left, forming a twin swath
This mode of swathing is selected to tailor swath sizes to small harvester capacities and in dense and leafy crops and for making night windrows.
| | |
| --- | --- |
| Do | |
| NOT DELETE | |
| THIS TABLE | |
| IT CREATES CSS THAT IS USED | |
| in the ACF Repeater | |
| JET Engine fields | |
| for the engine specs - Ken | |
| DEF (AdBlue) Capacity | |
Learn More About the Swadro 710/26T Twin-Rotor