The TC centre delivery rakes stand out for producing exceptionally consistent windrows while working at extremely high rates, flexible work widths and maximum ha/h performance. These machines offer working widths from 5.7m to 10m (18'8″-32'10")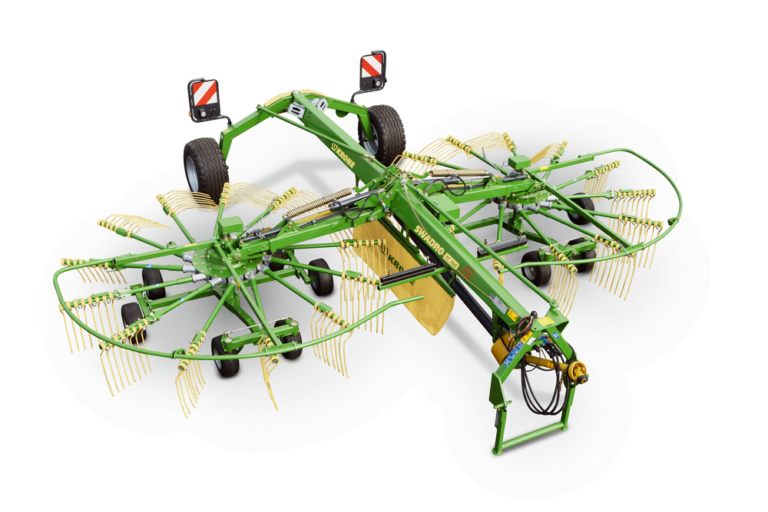 Swadro TC 640, work width: 5.70 m - 6.40 m (18'8" - 20'12")
Swadro TC 680, work width: 6.80 m (22'4")
Swadro TC 760, work width: 6.80 m - 7.60 m (22'4" - 24'11")
Swadro TC 880, work width: 7.60 m - 8.80 m (24'11" - 28'10")
Swadro TC 930, work width: 8.10 m - 9.30 m (26'7" - 30'6")
Swadro TC 1000, work width: 8.90 m - 10.00 m (29'2" - 32'10")
The flexible twin-rotor centre delivery rakes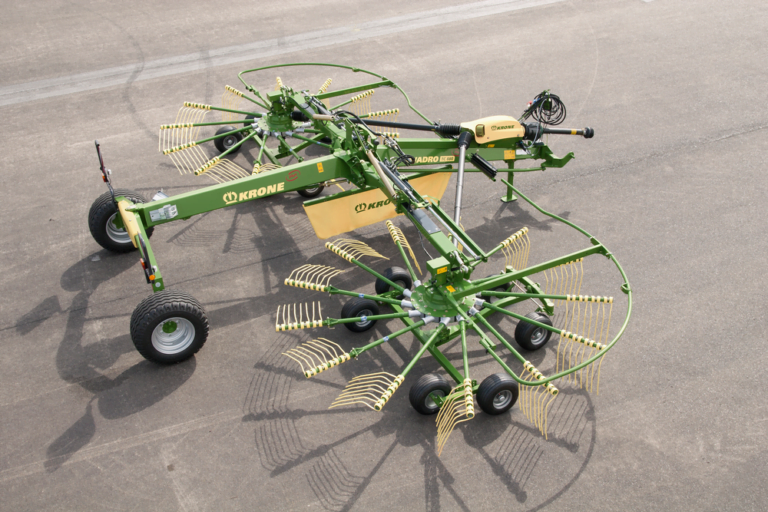 The mechanical width control
If specified with mechanical width control, the arms extend and retract as the operator turns a crank.

Changing work widths hydraulically
All Swadro TC models have hydraulic working width control as standard specification (optional on TC640 and 760). The system comes with a large scale that helps the operators set the required position.

Individual rotor lift-out
The rotors can be raised individually out of work, an option that brings great advantages in wedges, along boundaries and in low-yielding crops.

The rotor suspension system
Strong coil springs transfer some of the weight to the main beam and the chassis as the rake is swathing along

The manual height control system
All Swadro TC rotors have their work height adjusted down to the millimetre. This is done on a crank which is arranged on the outside of the rotor for easy access. A large scale helps operators to read the current position.

The electric height control system
Those who often use the rake in varying conditions will find it helpful to opt for the electric rotor height control system. This is standard specification on all Swadro TC Plus models. From the cab-based control box, operators control two servomotors which change the rotor height conveniently and accurately. This control box also displays the current working height and raises the rotors individually.

The unique disturbing rotor
To disturb and aerate dry and light material, Swadro TC680 and 760 can be equipped with a new KRONE development - the distrubing rotor. This promotes uniform wilting and boosts the quality of hay and leafy forage such as lucerne.
| | |
| --- | --- |
| Do | |
| NOT DELETE | |
| THIS TABLE | |
| IT CREATES CSS THAT IS USED | |
| in the ACF Repeater | |
| JET Engine fields | |
| for the engine specs - Ken | |
| DEF (AdBlue) Capacity | |
Learn More About the Swadro TC and TC Plus