German manufacturer Schmotzer Hacktechnik has further developed its mechanical hoe ranges since being bought by the Amazone Group at the end of 2018. The latest model, the Venterra 2K, is claimed as a revolution in hoeing technology.
The German company is still based in the Bavarian town of Bad Windsheim, and continues with dedicated sales and service teams, but Amazone's influence in Venterra includes the assembly of it at its Leipzig facility. The well-known arable equipment manufacturer also helped develop the software and whilst there is no change to the Schmotzer livery, the orange is now the same as that used by Amazone.
The main talking point, though, is the Venterra's frame, which heralds from an Amazone precision drill. Providing almost 1.0m of ground clearance, Schmotzer reckons the 50cm of clearance below the hoeing blades on the parallelograms opens up new possibilities to mechanically weed maize and beans at later growth stages.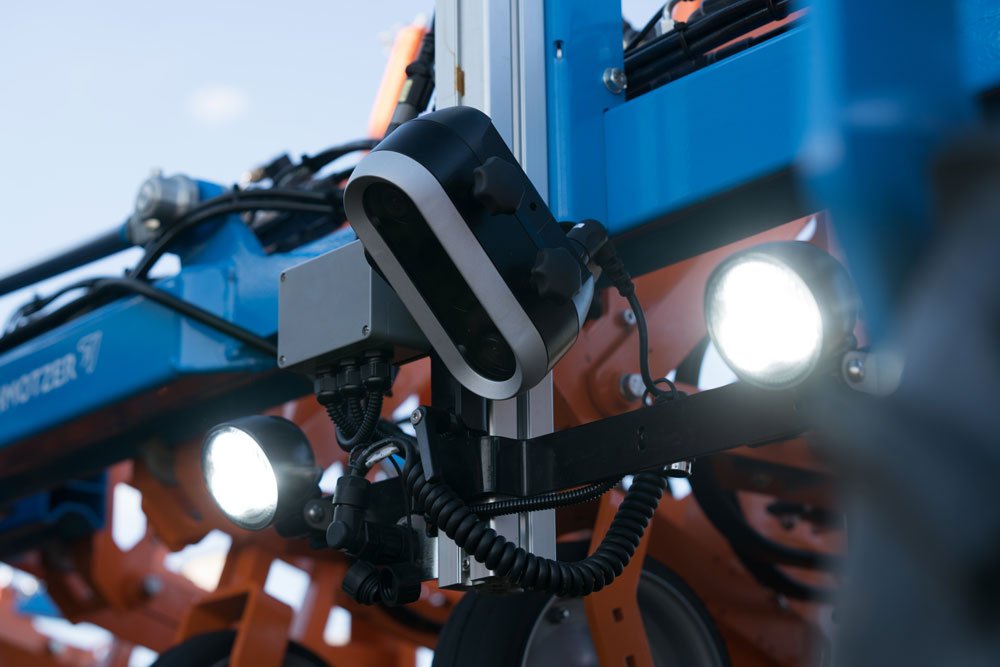 Available in working widths from 4.5m to 6.75m, in the right conditions the Venterra can work at speeds up to 15km/hr. Weighing around 2.3t, the compact hoe can be configured for row widths of 45, 50 and 75cm. Plant rows are recognised by a camera in conjunction with an automatic sliding frame.
Following tools, such as finger wheels, ridging discs and following harrows, are mounted on a second parallelogram, which, like the first, has maintenance-free bearings. This second one is designed to follow the ground contours, and a quick-change system is said to reduce the changing of the coulter plates down to just a few minutes.
Section control heads the list of options. Operated either via the tractor's own operating terminal or Amatron 4, this provides damage-free hoeing when driving onto the headland or in wedge-shaped fields.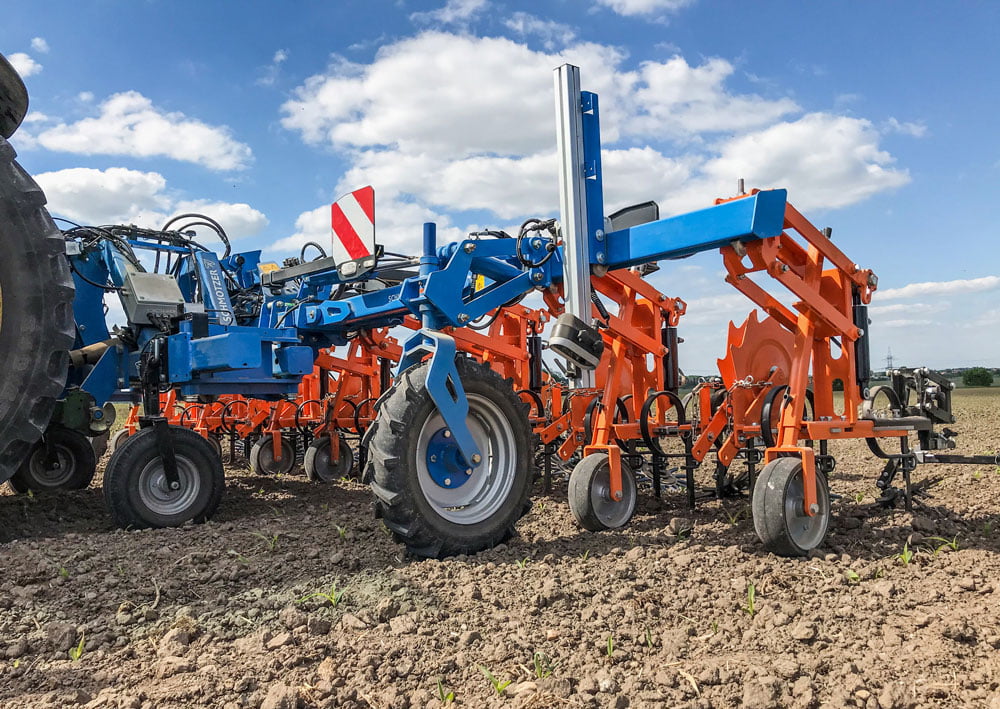 The Venterra 2K will be available early 2022 in Austria, Belgium, France, Germany, the Netherlands and possibly Denmark. Schmotzer has its own sales network in France and Germany, but the company is already making use of the strength of the Amazone sales network.
For example, in Germany, the Amazone network now takes care of areas where Schmotzer does not have a dealer (mainly in the east of the country), and the Dutch Amazone importer takes care of the Venterra in the Netherlands.
In the past, Schmotzer sold its hoes direct to Britain. There is no news about whether the company is considering distributing the Venterra via the UK Amazone dealer network, but we expect internal discussions to be taking place.
"Schmotzer is a small but fast growing company," says export manager Nils Krause. We must ensure that we grow at a sustainable pace that meets our manufacturing, service and spare parts capacity."