The steeper hood and raised cab improve all round visibility on the 7 Series TTV tractors (7250TTV and 7250TTV HD – Heavy Duty). Other updates to the German-built tractors includes a Stage V engine and a new transmission.
Assembled at the Lauingen plant in Germany, the Compound transmission, which is equipped with PowerZero and PowerShuttle, is available in 40, 50 and 60km/hr variants (40km/hr at 1200rpm/60km/hr at less than 1800rpm).
The box in the 7250TTV HD is the same as that used in the 8280TTV. The 7250TTV has a slightly smaller version, (different hydrostat units) along with a different front axle.
This gives it a smaller payload of 15.5t (16.0t on the HD). The lift capacity of 10.0t is also lower than the 11.1t on the HD, which with its reinforced axles, has the payload capacity and lift of the 8 Series.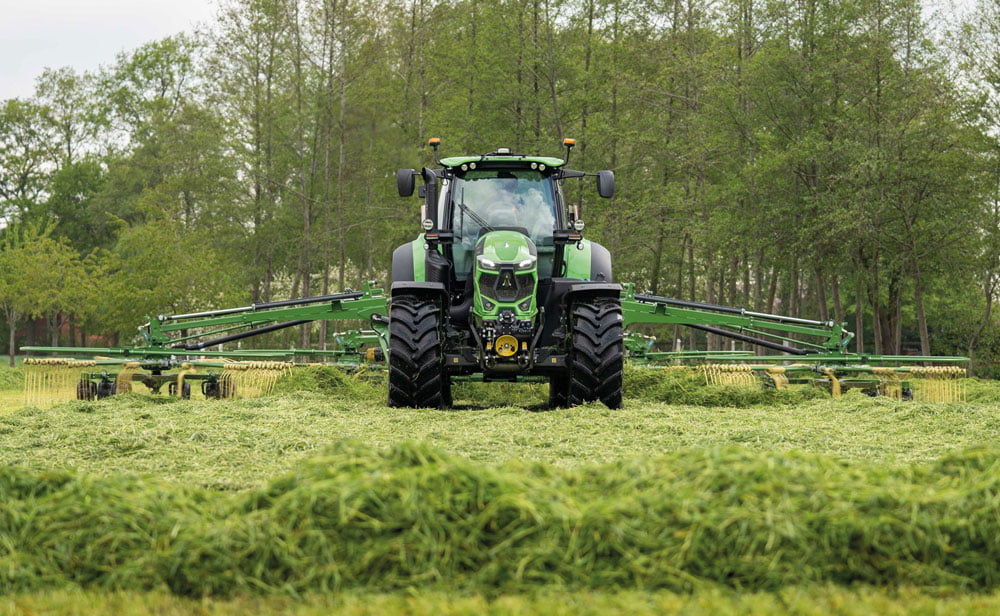 Sipping diesel from the new one-piece 505-litre fuel tank, the Deutz TCD 6.1 block generates a maximum power of 247hp and torque of 1072Nm. It meets Stage V regs using SCR, DOC and DPF after treatment. Oil replacement intervals have been extended to 1,000hrs (engine) and 2,000 hours (transmission and hydraulic).
Intelligent front axle suspension is available, as are dry disc brakes, for improved road safety. The turning circle has also been reduced by almost 2.0m to 5.95m.
The 5.45t front lift capacity can be coupled with the Dual Speed front PTO to provide a change of the PTO speed from 1000 to 1000Eco. Eco PTO speeds (500/1000) are also available at the rear.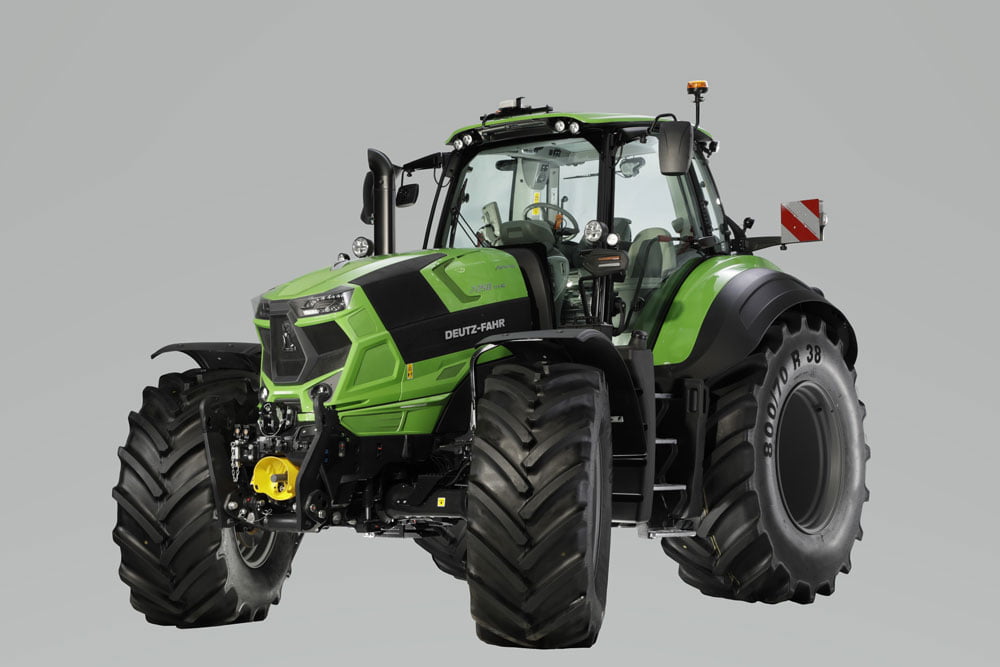 Independent from the transmission, the new hydraulic system allows a position-controlled front linkage to be equipped (previously only available on the 9 Series). The load sensing pump is available with three different flow rates; 120lit/min (standard) or optional 160 and 210lit/min. Up to 90 litres of oil is on tap for hydraulically operated implements.
A newly designed armrest is not the only change inside the MaxiVision cab, which can also be equipped with an improved pneumatic suspension, a practical bar mount for additional monitors and a swiveling pneumatic seat. Equipped with the new SR20 GNSS RTK satellite receiver, the Auto-Turn function enables automatic headland turning.
Both hydraulic and/or pneumatic trailer brakes can be fitted and advanced Trailer Brake Management (aTBM) optimises trailer braking performance. Other options include an engine brake, LED lighting package and larger 2.05m diameter rear tyres.